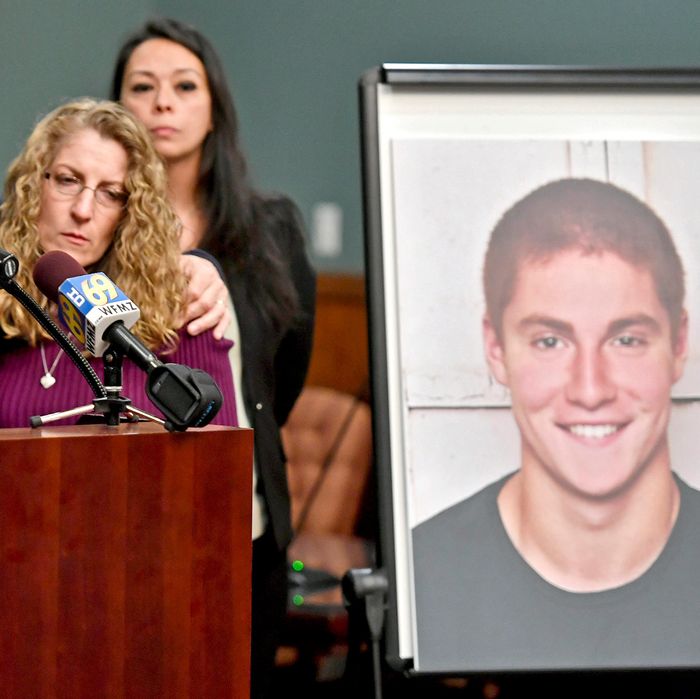 Centre County, Pennsylvania, district attorney Stacy Parks Miller with Jim and Evelyn Piazza.
Photo: Abby Drey/AP
On February 2, 19-year-old Tim Piazza underwent a hazing ritual called the "gauntlet" at the Penn State chapter of Beta Theta Pi. The sophomore, who was pledging the fraternity, took a brutal fall down the stairs after being forced to consume at least 18 drinks in under 90 minutes. His unconscious body was carried to a couch and, The Atlantic reported, the frat brothers "slapped and punched him, threw his shoes at him, poured beer on him, sat two abreast on his twitching legs." They waited 12 hours before even calling for help. Piazza died the afternoon of February 4.
Beta Theta Pi was shut down a few weeks later and, now, ABC News reports, several new charges have been brought against 17 of those fraternity brothers:
The charges — which include involuntary manslaughter, aggravated assault and hazing — are the result of an investigation into surveillance video from the Beta Theta Pi fraternity house basement that a fraternity member is accused of deleting, Centre County District Attorney Stacy Parks Miller said at a press conference.
Fourteen fraternity members were already facing less serious charges in connection with that night; five of them, along with 12 new defendants, are looking at these new charges.
Although the members previously told police that their basement cameras weren't working the night Piazza fell, authorities have since "uncovered evidence that the basement camera footage had actually been manually deleted just as State College Police were poised to take possession of the recording equipment."
"Tim was a happy and caring human being and a wonderful son who just wanted to join an organization to find friendships and camaraderie," Tim's parents, Jim and Evelyn Piazza, said in a statement on Monday. "Instead he was killed at the hands of those he was seeking friendship from."