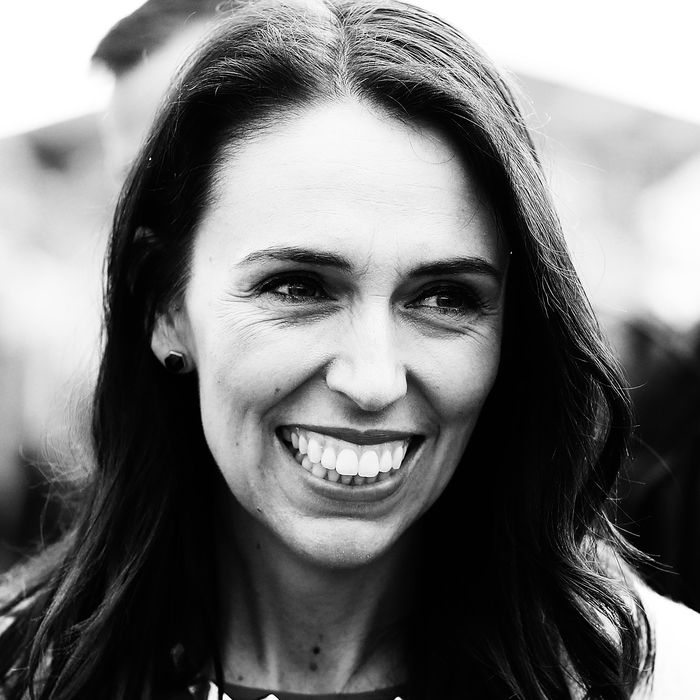 Jacinda Ardern.
Photo: Hannah Peters/Getty Images
Perhaps the most difficult part about becoming a world leader in 2017, is that you occasionally have to meet Donald Trump at summits and conferences where he will inevitably shove his way to the front of a group photo, or pull you into one of his weird, extended handshakes. But Jacinda Ardern, New Zealand's newly elected prime minister, and the youngest female head of government, handled her first meeting with Trump at the East Asia Summit in Vietnam with aplomb. As she told New Zealand's Newsroom:
"I was waiting to walk out to be introduced at the East Asia Summit gala dinner, where we all paraded and while we were waiting, Trump in jest patted the person next to him on the shoulder, pointed at me and said, 'This lady caused a lot of upset in her country', talking about the election.




I said, 'Well, you know, only maybe 40 per cent', then he said it again and I said, 'You know', laughing, 'no-one marched when I was elected.'




He laughed and it was only afterwards that I reflect that it could have been taken in a very particular way — he did not seem offended."
Ardern had other, more emotional interactions with world leaders. Japanese Prime Minister Shinzo Abe reportedly offered his condolences for the loss of Ardern's cat, Paddles, who was hit by a car shortly after her election.
"Actually, I found that a really humanizing moment," Ardern said. "Regardless of the jobs that we're all doing and the intensity of the jobs that we're doing, that he was just a human who recognized something sad in another human's life, so that was kind of grounding."
Ardern's comment was not the only indignity Trump suffered on his trip to Vietnam. For the Asia-Pacific Economic Cooperation (APEC) 2017 Gala Dinner, the president was forced to wear a traditional Vietnamese dress shirt instead of his signature ill-fitting suit and crotch-length tie, a deviation that made him visibly uncomfortable.