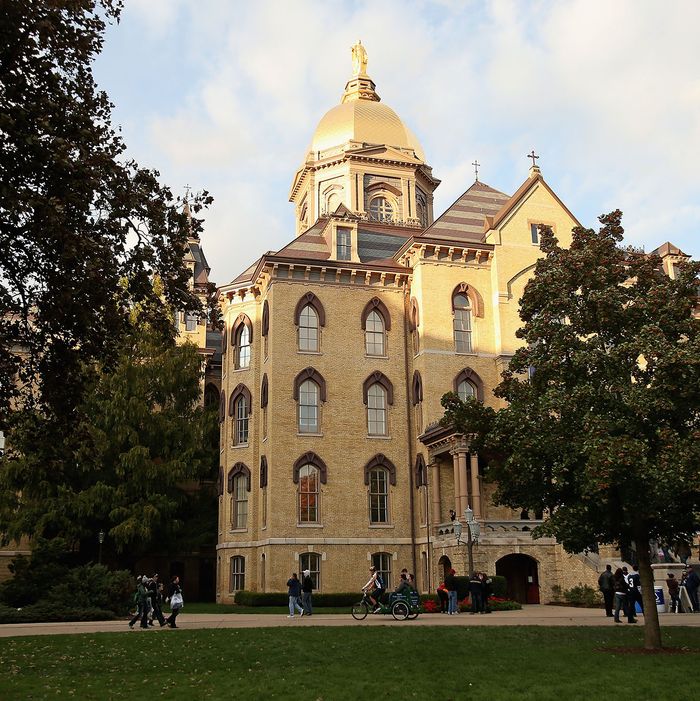 Notre Dame.
Photo: Jonathan Daniel/Getty Images
Last month, the Trump administration rolled back the federal birth-control-coverage mandate and made it possible for institutions to cite moral and religious objections as a rationale for not covering birth control.
And the devoutly Catholic University of Notre Dame was one of the first employers to take advantage of the change. In an email earlier this month, the university informed students and faculty that birth control would only be covered for "a specific medical condition" per BuzzFeed.
Notre Dame students responded in protest. Mary Shiraef, a 26-year-old political-science grad student, and two students who remained anonymous sued the Trump administration with the help of Americans United for the Separation of Church and State and the National Women's Law Center.
Now, Notre Dame has announced they've reversed their position. In a speech to the faculty on Tuesday, Notre Dame president Rev. John Jenkins, said the school would continue providing free birth control to students and faculty.
"As I have said from the start, the university's interest has never been in preventing access to those who make conscientious decisions to use contraceptives," Jenkins said according to CNN. "Our interest, rather, has been to avoid being compelled by the federal government to be the agent in their provision."
In an interview with Elite Daily, Shiraef said she brought on the lawsuit because she'd had enough.
"As women, we reach a breaking point at which point we realize some other entity [like a university] really does care about what we do with our bodies in a deeply intrusive way," Shiraef said. "[Birth control is] important, intimately, to me, to my career; it's important so I can work equitably to my male colleagues towards my degree."
This article has been updated.