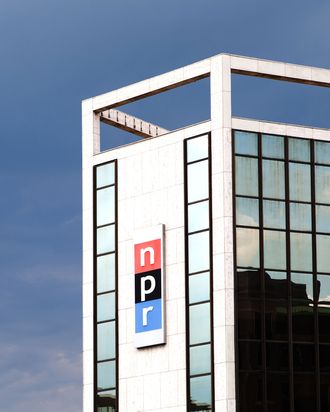 NPR's Washington bureau.
Photo: diane39/Getty Images
Michael Oreskes, the head of NPR's news department, is resigning from the company in the wake of sexual-harassment allegations against him. "I am deeply sorry to the people I hurt. My behavior was wrong and inexcusable, and I accept full responsibility," Oreskes said in a memo to NPR staff, which was quoted by CNN Wednesday afternoon.
Three women accused Oreskes of harassment on Tuesday. In a Washington Post story, two female journalists accused Oreskes of making unwanted sexual contact with them when he was the Washington bureau chief at the New York Times almost two decades ago. Then, a third accuser — an NPR employee — came forward with a much more recent story. Rebecca Hersher said she filed a human-resources complaint about Oreskes in 2015, alleging that "Oreskes hijacked a career counseling session into a three-hour-long dinner that delved into deeply personal territory." She said he talked to her about sex and relationships and at one point referred to a former romantic partner as a "sex girlfriend."
According to CNN, Oreskes was placed on leave Tuesday, and he is now officially leaving the company.
In the Post story, two female journalists said Oreskes unexpectedly kissed them while they were meeting with him about working at the newspaper. Per the Post:
Both of them told similar stories: After meeting Oreskes and discussing their job prospects, they said he unexpectedly kissed them on the lips and stuck his tongue in their mouths.
One of the women met Oreskes at the Times' offices in Washington, after which he took out a personal ad in the Washington City Paper with the goal of reaching her: "Saw you at the Army-Navy Building. Loved hearing your life story and your ideas. Hope you get this message. Let me know." Oreskes allegedly emailed her a week later and she turned down his subsequent offer to have lunch at a hotel. However, she agreed to meet up with him when she flew to New York for a job interview, and he kissed her in a cab.
"The worst part of my whole encounter with Oreskes wasn't the weird offers of room service lunch or the tongue kiss but the fact that he utterly destroyed my ambition," she told the Post.
The second woman allegedly met Oreskes after booking him onto a TV program she was producing. He offered to look at her work — she was interested in transitioning to print reporting — and asked to meet at her apartment. She offered to give him a ride to the airport, and he kissed her at the curb. Two months later, she confronted him about what happened, and he allegedly replied, "I was overcome with passion. I couldn't help myself."
The women told the Post they were compelled to come forward after witnessing NPR's coverage of the Harvey Weinstein sexual-harassment scandal. "The idea that he's in charge of that coverage is just so hypocritical to me. It's sickening," one woman told the Post.
This post has been updated with details about Hersher's accusation and news of Oreskes's resignation.