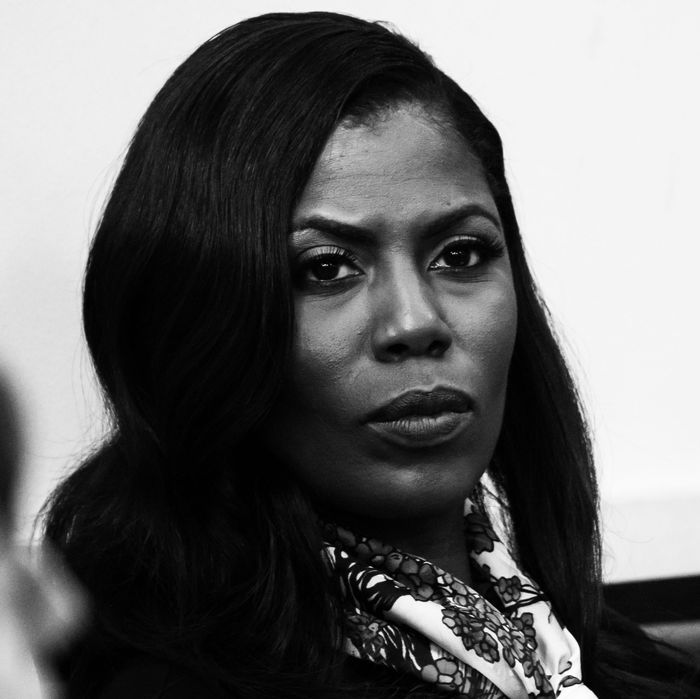 Omarosa Manigault.
Photo: Cheriss May/NurPhoto via Getty Images
In the months after President Donald Trump was inaugurated, officials in the White House reportedly focused their efforts on a major political issue: the April wedding of former Apprentice star Omarosa Manigault.
Not only did the ex-reality star and current Office of the Public Liaison director of communications have a photo shoot with her 39-person wedding party at 1600 Pennsylvania Avenue, but the Daily Beast now reports Manigault's bridal luncheon basically overshadowed German chancellor Angela Merkel's March visit to the White House.
During reporter Elaina Plott's St. Patrick's Day interview with Manigault at the White House — the same day Merkel was visiting — all the senior Trump administration official could apparently think about was her luncheon. Her eight bridesmaids, mother, and fiancé were on their way for the shindig — so she gave short answers to the reporter's questions and instead allowed Plott to shadow her for the morning. Plott wrote:
Ultimately, in my quest to better understand what, exactly, Omarosa does each day, I learned little more than the fact that she was getting married.



Guests were invited to the very on-theme White House lunch through shamrock-bordered invitations, and were reportedly served appetizers, entrees, and desserts by waiters. "It was a good way to spend time with her before the wedding got underway," one of Manigault's bridesmaids told the Daily Beast.
Glad to see everyone at the White House was hard at work making Manigault's wedding great again.