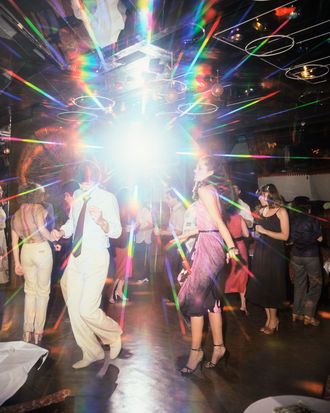 Photo: Dennis Hallinan/Getty Images
During Fashion Week, Opening Ceremony co-founders Carol Lim and Humberto Leon often put on shows that not only get the audience involved, but spur political action. Following the election, for example, they presented a pageant-style fashion show where models and celebrities all spoke on hot-button topics. Now, they're moving off the fashion calendar to host a special, standalone event.
This Saturday, December 2, Opening Ceremony will host Dance Left, a dance-a-thon fundraising event benefiting Swing Left, the national grassroots organization working to flip the U.S. House of Representatives blue in the 2018 midterm elections.
"We are so excited to partner with Swing Left and help support their efforts to ensure our voices are heard in Congress," said Lim. "The current administration is proactively dismantling policies that affect the most disadvantaged populations — from DACA to transgender rights to funding for Planned Parenthood … the list goes on. Swing Left is creating a way for us channel our frustration into in real change. We cannot wait until 2020!"
For the event, Lim and Leon have asked their large posse of creative friends including Chloë Sevigny, Claire Danes, Eddie Huang, Fred Armisen, Natasha Lyonne, Spike Jonze, and Whoopi Goldberg to serve as hosts. Plus, they've booked Mark Ronson for the tunes.
"We invite everyone who wants to see the House turn blue and believes in protecting human rights to dance all night long with us," added Lim. "We feel like it's the perfect way to ring in a holiday season of giving, and hopefully ignite the change in 2018."
To support and attend, tickets are available to purchase here. To become a sponsored dancer, email swingleft@openingceremony.com to set up your personal sponsorship page.