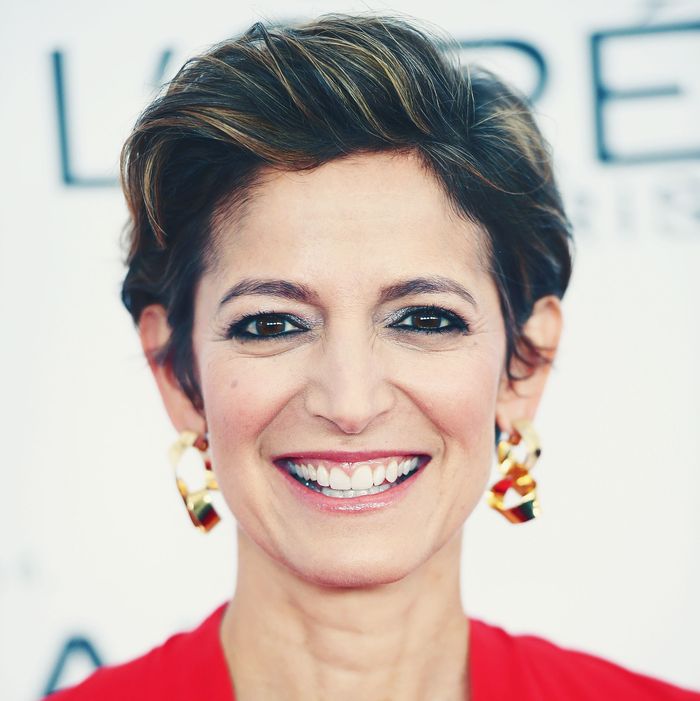 Cindi Leive.
Photo: Dimitrios Kambouris/Getty Images for Glamour
Glamour hosted its 27th annual Women of the Year Awards at Kings Theatre in Brooklyn on Monday, honoring game changers, rule breakers, and trailblazers — like Academy Award–winning actress Nicole Kidman, Congresswoman Maxine Waters, Wonder Woman director Patty Jenkins, astronaut Peggy Whitson and the organizers of the January 2017 Women's March.
And in a surprise twist, Condé Nast also recognized Glamour's leader, editor-in-chief Cindi Leive, as a 2017 Woman of the Year. The Awards will be her last with the magazine, as she ends her 16-year run as editor this year. Leive received touching tributes from notable women like Hillary Clinton, Michelle Obama, and Condé Nast's artistic director and Vogue editor-in-chief Anna Wintour, who highlighted that Leive was able to interview all sitting presidents during her tenure … with the exception of the current one.
"It's a far trip from the World Trade Center to that golf course," Wintour joked.
The Cut spoke with Leive just after the Awards about the importance of journalism, the #MeToo movement and what she hopes is next for both the magazine and for herself.
On Being Honored As a Woman of the Year
It was surreal. You have to understand, we micromanage every second of that awards show, and I knew the run of show like the back of my hand. So all of a sudden I was like — wait, Anna is onstage? And who is she talking about? Then to see Cecile, who's a good friend, and Secretary Clinton and Mrs. Obama onscreen — I was shook, as the millennials say. I actually don't think I retained a word of what anyone actually said until I went back and watched the video the next morning. It was weird, and heavenly, and wonderful. And Anna kept it completely secret.
On the Importance of Journalism
Because we now know all too well how we can be manipulated and misled by propaganda! Reporting — and the commitment to long-form reporting, whether written or in video — is essential. And reporting by WOMEN is essential. Women journalists all around the world take seriously the issues that affect women's lives. Look at what Jodi and Megan started in our culture!
On the #MeToo Moment at the Awards
The decision made itself. There's just no way you could talk about female courage right now without bowing down to the millions of women who are coming forward to tell really hard stories of abuse and harassment. And it was important to us to showcase this across generations — Anita Hill came forward 26 years ago, when there was certainly no #MeToo sisterhood out to there to support her — and across industries. It happens in Hollywood, and it also happens to factory workers, farm-workers, artists, engineers. Having NYPD officer Ann Cardenas, model Cameron Russell, and the young gymnast Aly Raisman alongside Anita said: This isn't a Hollywood problem. This isn't a fashion problem. This is a power problem and until we stop giving the power-abusers a pass, we're not going to stop it. The good news is, that whole audience of 3,000 was on their feet. I think we CAN solve this.
On Her Legacy
Hmm, the word legacy throws me a little — it makes me think of an old vase your grandmother left you. Maybe I could leave a vibe instead? But obviously that's a very flattering question. I hope our team did its part to help show that women can care about both lipstick and legislation. All parts of our life are equally valid. And that we helped more fully represent women as they are, rather than as some hyper-perfected version of themselves they're supposed to aspire to. For people who rightly or wrongly have seen women's magazines as plastic, I hope we scraped a little bit of the plastic off.
On What's Next
Well, I'm sure Glamour will continue to grow, and that the next editor will build it in new and thrilling ways. Video is enormous for us right now and I know there's a huge future there for the brand. And for me — I'm taking the first few months of next year to lay reasonably low, writing a book and doing some speaking engagements, and then I'll announce what's next. I think this is such an extraordinary time for women, and I'm excited to be at a moment in my career when I can take advantage of that.