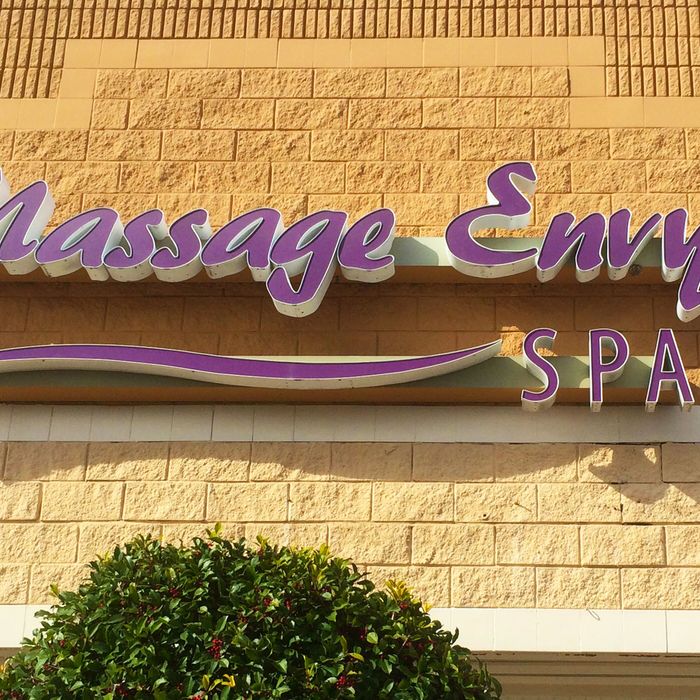 A Massage Envy spa.
Photo: Diane Macdonald/Moment Editorial/Getty Images
A new investigation from BuzzFeed News found that more than 180 U.S. women have filed sexual-assault lawsuits, police reports, and state-board complaints against Massage Envy, the country's largest massage franchise that promotes affordable services at its 1,200 spas nationwide. The reports have been filed against the national company, individual spas, and their employees.
The investigation opens with the story of Susan Ingram, who was assaulted in 2015 at a Massage Envy in West Chester, Pennsylvania. She was seeing massage therapist James Deiter, who she had seen six other times. During her last session with him, he pushed his erect penis into her, groped her breasts, and penetrated her vagina with his fingers.
Ingram lay there, frozen in fear and disbelief, until the session was over. After driving home sobbing, she called the spa to report the sexual assault. She was shocked when the manager refused to interrupt the session Deiter was having with a female client, Ingram said, or to connect Ingram with the spa's owner.




"I said to her, 'Nicole, he stuck his fingers in my vagina less than an hour ago,'" she later recounted in court. She begged the manager to get Deiter's client out of the massage room immediately. "She said she could not do that, and she invited me in to talk about my services," Ingram added.
While she soon after called the police and Deiter consequently pleaded guilty to sexually molesting nine women at Massage Envy, not all stories in the investigation found resolution. All of the accounts are nothing short of chilling.
Dozens of women reported digital and oral penetration. One Oregon woman said her massage therapist forced his entire fist into her vagina before ejaculating in her face. In Florida, a woman said she tried to push away her massage therapist as he licked her vagina. Over 100 reported that massage therapists groped their genitals, groped their breasts, or committed other explicit violations, such as the California woman who said she opened her eyes during a prenatal massage to find her massage therapist sucking on her nipple.
Massage experts and lawyers quoted in the story blame much of the issue on the company's business model. Massage Envy is an extremely fast-growing franchise, and because of this, the company is having to constantly fill jobs — sometimes not always with the most qualified people who receive adequate training around misconduct. Various Massage Envy employees told BuzzFeed they were never taught what to do with sexual-assault allegations, but they were able to recognize that the internal-review policy did not protect clients. On the other hand, a former director of operations at multiple Massage Envy spas just thinks that "there are bad eggs in every industry."
Ingram and other women have filed lawsuits against individual spas and Massage Envy LLC, and the case is scheduled to go to trial in January; it may be the first time Massage Envy has had to answer to a victim of sexual assault in open court. Ingram also helped Pennsylvania representative Pat Meehan introduce the Duty to Report Sexual Assault Act of 2016, a piece of federal legislation that would require spa owners and employees to report sexual-assault allegations to the police. If the legislation passes, Ingram believes it "will protect women when billion-dollar companies like Massage Envy fail to do the right thing."
Read the full report here.