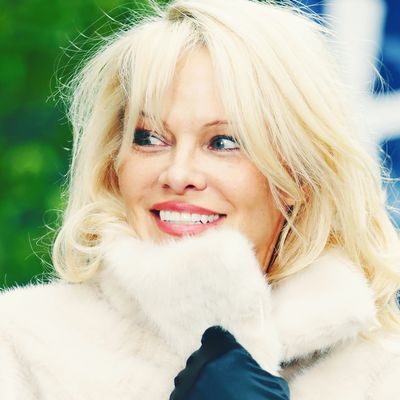 Pamela Anderson.
Photo: Andreas Rentz/Getty Images
Fortune favors the bold, and so do "Page Six" stories. Today, they bring us news of Pamela Anderson who — upon learning that she was at the same Manhattan hotel as Mike Pence — "marched straight up to the Secret Service and asked to see" him.
Per their source:
"The Secret Service agent practically swooned and fainted when she walked up to him and started pressing her finger on his badge. Pam said, 'I'd like to meet the vice president.'" But, the source added, "The agent did get it together enough to politely refuse, saying the vice president was busy."
Why, exactly, was the Baywatch star so intent on meeting the VP? Anderson's primary cause of late, of course, which starts with "J" and ends with "ulian Assange." In the past, she's made pleas for French president Emmanuel Macron, Labour leader Jeremy Corbyn, and all of China to offer the WikiLeaks founder asylum.
She admitted this was the case with her attempted Pence meeting too. "I really wanted to mention this — it is a topic close to my heart. Julian Assange deserves a pardon, and I thought I might be able to help," Anderson said. "Julian is a hero to most of the world's youth and free-minded thinking people. America needs to be on the right side of history."
In related news, do not let Karen Pence find out about this.