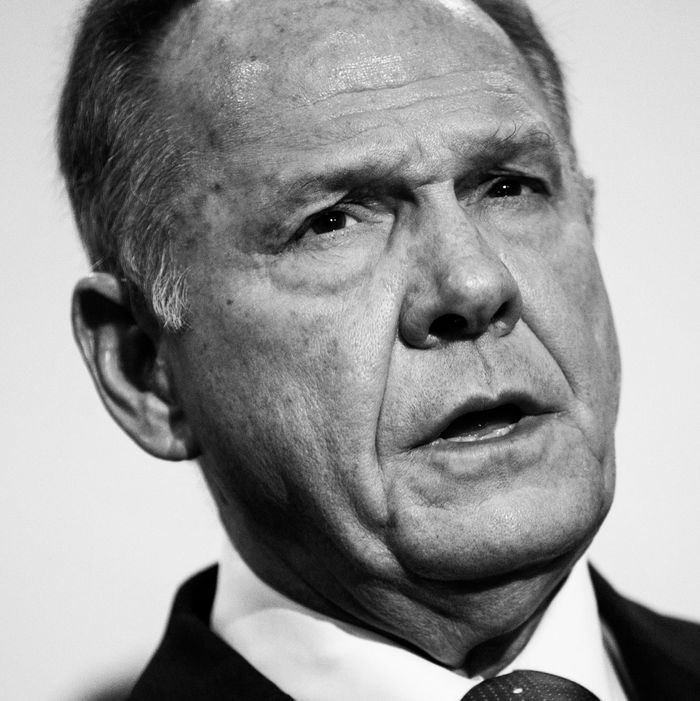 Eight women have publicly accused Roy Moore of sexual misconduct.
Photo: Drew Angerer/Getty Images
There was nothing wrong with Republican Senate candidate Roy Moore making sexual advances toward underage girls when he was in his 30s, at least not in the mind of Pastor Flip Benham. On an Alabama radio show last night, the godly man justified Moore's behavior, saying he just wanted to be with young women who still had some "purity," The Hill reports.
Since the Washington Post first published its exposé of Moore's predatory behavior toward three young women earlier this month, eight woman have accused Moore of a whole range of sexual misconduct, all of which Moore has completely denied. But on a radio show with hosts Matt Murphy and Andrea Lindenberg, Benham effectively confirmed the allegations against Moore, and insinuated that his actions were totally understandable.
"The lady that he's married to now, Ms. Kayla, is a younger woman. He did that because there is something about a purity of a young woman, there is something that is good, that's true, that's straight, and he looked for that," Benham told the hosts.
Also, it's not his fault he approached women as young as 14. Moore had no choice — all of the women his age were married, said Benham.
"All of the ladies, or many of the ladies that he possibly could have married were not available then, they were already married, maybe, somewhere. So he looked in a different direction," he said.
Benham, not exactly a pillar of morality himself, harassed a 17-year-old trans girl outside her school bathroom when Charlotte, North Carolina, was considering a nondiscrimination ordinance to combat the state's anti-trans bathroom bill. He has also held open-casket fetus funerals and harassed abortion doctors.
Meanwhile, Trump has all but explicitly said that he endorses Moore. The president maintains that Moore has denied all the allegations.