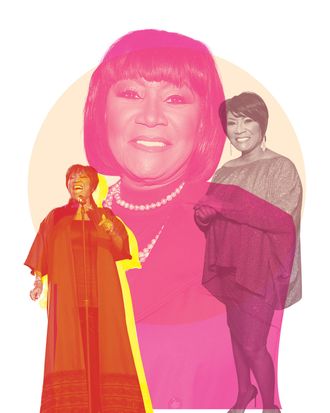 Patti LaBelle.
Photo: Stevie Remsberg; Photos: Getty Images
Patti LaBelle slow down? Never. At 73, the legendary singer is warming up. She recently inked a deal with Fox to join the network's show Star this spring. But before that happens, her Cooking Channel show Patti LaBelle's Place will head into its second season later this month, and her new Christmas album, "Home for the Holidays With Friends," will debut the day after Thanksgiving. The Cut chatted with the legendary alto and pneumococcal pneumonia-awareness advocate about staying healthy during the holidays, why she doesn't like the term "diva," and of course, her unforgettable "Patti pies."
How I manage my nutrition around the holidays: I've learned to cook for other people, and then I cook for my diabetic self. My family always begs for the potato salad, the macaroni, and the fried chicken, but for me I sauté a piece of fish with habanero pepper, some kale greens, and add a salad. That's going to be a good dinner. I'm used to eating the proper foods for my age now. I'm just really trying to stay alive. I exercise as much as I can and cook my own food because then I'll know what I have in my stomach.
My Thanksgiving meal will be: at my house, and I'll be the only one in the kitchen. I don't like sous chefs and I don't like people moving around while I'm trying to do my thing — I do it all myself and I love it. It takes me about four hours. Everybody always says: "You always cook so fast" and I'm like: "yes, it's fast, good, and it's done. No raw turkey."
My Thanksgiving lateness policy is: I actually don't have one because I always know someone will be late. If I say the party's going to start at 4 p.m. then that's when it's going to start. Whoever comes late can make their own plate. And they can't take food home in my own Tupperware; that's a no no. Whenever I start is when the party starts.
How I manage family disputes during the holidays: I had a big fight at my house about eight years ago. My cousin wanted to say to Patti Labelle: "who do you think you are because you're Patti LaBelle?" I asked him where that question was coming from. He said: "you think you're so fabulous." And I said: "well, I am." My aunt, his mother, said: "get out!" So they put him on the train. There's always someone picking on me at my house, but I know how to shut it down.
How I like to exercise: I walk my little Shih Tzu around the block a few times and I walk in the short end of my pool to keep my joints cool; I can't swim, so I do that. Whenever I perform is my exercise, too. I'm rolling around and having fun. When I'm on stage I feel like I'm 30. The audience loves to see me move honey, but I won't be moving all that much.
Who I would love to see eating one of my famous pies: Viola Davis. I saw her on a TV show where she was saying that she's crazy about dessert. I just want to give her some of my peach cobbler, banana pudding, berry cobbler, and sweet potato pies.
Why pneumococcal pneumonia awareness is important to me: I know not a lot of people know that they're walking around with pneumonia because at 65, some people don't go to doctors. I was one of those girls who never liked to see a doctor, but it's something you need to talk to your doctor about. I think [pneumonia awareness] is a worthy cause to be a part of because people think Patti LaBelle is honest.
My advice to my younger self on how to be healthier: See your doctors. I was afraid to see a doctor back in the day. I was afraid of what he or she might tell me, so I never went until I fell out on stage 21 years ago. That's when I was diagnosed as a diabetic.
My thoughts on retirement: Why retire? No! As long as my voice and knees are working, I'm going to be onstage.
What the word "diva" means to me: Nothing. We're all out here together; no one is better than anyone. A diva is someone who puts herself on a higher level than most, and she loves the admiration from everyone. I don't like the term diva when it comes to Patti LaBelle. It makes people afraid to come up to certain singers because they think that they're divas and that they're untouchable. That's not so cute to me, I don't like that. There are a lot of young girls who think they're divas, but no one is all that. I would call an opera singer a diva. But me? I'm regular Patti.
This interview has been edited and condensed.
If you buy something through our links, New York may earn an affiliate commission.