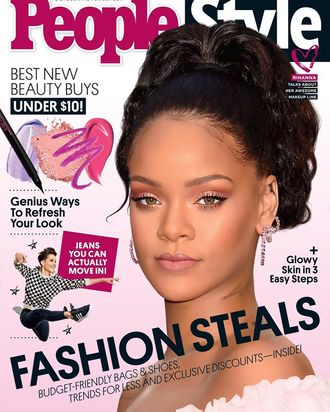 Photo: Courtesy of PeopleStyle
The magazine PeopleStyle, formerly known as StyleWatch, is folding its monthly print edition.
Per an internal Time Inc. memo obtained by the Cut on Monday from Alan Murray, the chief content officer of Time Inc., and Jess Cagle, the editorial director of People and EW, the magazine will now operate as a "digital-first" product. The final stand-alone print PeopleStyle is the December 2017/January 2018 issue.
"The PeopleStyle brand will continue to address the needs of its exuberant fashion audience and engage readers on multiple platforms," read the memo. "PeopleStyle will still live in print, in the popular PeopleStyle section in the weekly edition of People and in special stand-alone issues planned for the future. Meanwhile, we are focused on exciting new initiatives within the successful digital PeopleStyle vertical, such as e-commerce, seasonal shopping guides, new video franchises and People TV programming."
The memo goes on to say that PeopleStyle editor-in-chief Bethany Heitman will be leaving her role, with People's style and beauty director, Andrea Lavinthal, continuing to oversee the section in her place.
StyleWatch was founded under Time Inc. in 2002 as a newsstand extension of the popular People style column. In March of this year, it reduced its frequency to eight times a year, combining with People's style vertical to become PeopleStyle. This news is just the latest in a succession of print fashion-magazine closures, following the most recent rumors about Teen Vogue. RIP.