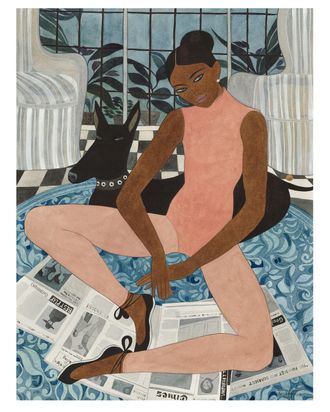 New York City–based artist Kelly Beeman is inspired by Picasso's blue period, Byzantine art, and early fashion illustrations by Georges Lepape and Paul Iribe. She paints watercolors of women wearing high-end clothing by brands like Dior, Jason Wu, Alexander Wang, and Balenciaga.
"How do I present myself to the world? I think you have to ask yourself that question when you're painting a person," she explained to Coveteur. The mask-like faces and elongated proportions of her portraits allude to the 19th-century Italian artist Amedeo Modigliani. She captures her subjects going about their days — watching music videos, running in the rain, and gossiping.
In December, Beeman releases her first book, Window Shopping, published by Edition Patrick Frey, featuring 50 brightly colored illustrations with relatable titles ranging from Running Away to New Year's Eve. Click through to preview the book.
If you buy something through our links, New York may earn an affiliate commission.
"This post has been corrected to show that Beeman's book has not yet been released, and will be released in December."