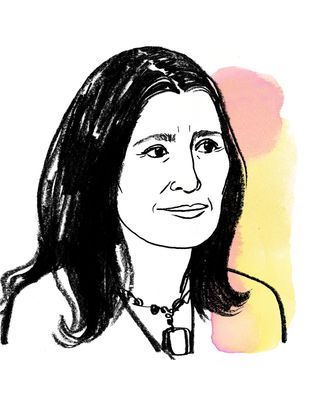 Pilar Guzmán.
Illustration: Lauren Tamaki
Pilar Guzmán is pretty much a professional traveler. As the editor-in-chief of Condé Nast Traveler, she's on the road a lot (and has packing down to a science). She launched her career writing travel guides in Italy and Vietnam and previously served as the editor-in-chief of Martha Stewart Living and the founding editor of Cookie. She lives in Brooklyn with her husband and their two sons. Here, she shares how she gets it all done.
On a typical morning: I'm a fairly early riser — my eyes usually pop open by 5:50 a.m. and then our alarm goes off a few minutes later. We live in Park Slope and our sons go to school in Brooklyn Heights, so we have to be out the door roughly by 7:30 a.m. because we all ride the subway together. My boys are 14 and 11, which means they need some nudging to get up in the morning, but they're pretty self-sufficient. I'm always pushing an omelette or hard-boiled egg on them, but they'll usually fix themselves yogurt or cereal. I exercise either by running around the park before we have to leave, or by going to SoulCycle near our office in Tribeca. I also read the paper in the morning, and I get to work between 8:30 and 9:30 a.m..
On her work space: We work in One World Trade Center. We have incredible windows all over, so it's very light-filled. I have a nice-sized office that really doubles as a conference room, because we meet a lot. I work at the conference table, and there are always people coming in and out.
On packing: I have packing down to a science at this point. I'm an extreme minimalist, and I always carry-on. I travel with a Rimowa multiwheel bag — they're indestructible, and miraculously, they're like the VW clown car in that it's amazing how much I can fit into the carry-on. I limit myself down to one pair of heels (if I need them), a flat, and a sneaker, and for clothes I usually pack in a palette. Where I get my most mileage is out of shirts, so I use a lot of thin, easy, silky shirts and blouses that pack very flat. I'm also okay with wearing the same thing over and over, with the exception of shirts and undergarments, so that's my secret.
On traveling a lot: How often I travel varies; I have these little sprints. I was just in South Africa and Botswana, and I'm in Asia at least once a year. It won't happen this year, but I usually take the week of Thanksgiving off, and we pull the boys out of school for a couple of days to travel. Last year we went to Tokyo and Kyoto. And although I travel a fair amount on my own, some of them are short trips like three days in Dubai, which is fun but a bit of whiplash.
On staying entertained on the plane: I download a ton of media — like right now, I have "The Vietnam War" series downloaded — before I get on a long flight. I always have a mix of books and long-form pieces I'm reading on my phone. But I live in fear of not having enough reading material, so I also always bring a stack of New Yorkers that I'm behind on with me on the plane, and then I'll leave them for the next person. And I always have one or two novels going — usually a physical one and one on my phone.
On jet lag: I'm a terrible sleeper, but the one upside of being a terrible sleeper is that you don't really think about jet lag too much. When I come back from a trip, I'll force myself to stay up (even if I want to fall asleep by 6 p.m.), and then I'll get back on schedule.
On writing travel guides: My first gig right out of school, when I was 22, was working on a travel guide in Italy. I was there for three-and-a-half months, traveling around with basically only 60 bucks a day. I stayed in youth hostels and had to be very scrappy. It wasn't a paying gig, but it was great. Then I moved to New York and a few years later, I worked on the first Vietnam guide that Fodor's published after the war. It was 1996 and there were so few tourists there. It was almost like Cuba was — just caught in time. It was amazing to make fresh tracks there for three months.
On planning trips: I'm pretty agnostic when it comes to planning my trips. I do everything from going down traditional media channels — my own publication, some of our competitors — and also looking through a handful of Instagram feeds and geotags. But if I'm in London for one night, I need to find the restaurant that I can't miss. It's got to be one that's tried and true, or recommended by someone I trust, because I've only got one shot and I don't want to waste a meal or bar experience.
On Martha Stewart Living: I was lucky to be at that brand the exact moment the DIY-maker movement was happening. We really highlighted the fact that Martha is the patron saint of every tatted hipster in Williamsburg whose got something pickling in a jar or is making a pie. Whatever they're doing, she's done a hundred times over. If I did anything to help tell that story, I think it was connecting those dots — she's the authentic, OG maker.
On the importance of travel journalism: Travel is what people live for. It's what they save their money and precious vacation days for. There's a lot of anxiety that surrounds planning and getting it right. There's so much pressure on trips to deliver happiness and make memories and create transformations, so it's a lot of responsibility. Tavel writers better be right and they better be responding to people's needs, instead of just editing for their friends or other writers.
On a typical night: I try to limit evening engagements to only two nights a week if possible. When your kids are tiny, the bummer of being a working mom or dad is that your kid is basically going to bed by the time you get home from work. But when they're big, you get to have real conversations. So if I feel like I'm going to miss that time with them in the evening, I joke that I might as well stay out all night and pack in as many events as I can. Otherwise I try to leave the office by 6:30 p.m. to be home for dinner. I go to bed anywhere between 10:30 p.m. and midnight. I used to be much more of a night owl, but my husband taught me how to sleep.