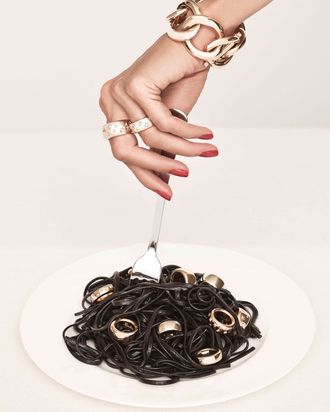 Photo: Courtesy of Pomellato
Pomellato, the jewelry brand known for hand-crafted, candy-colored cocktail rings, just released a holiday collection for discerning splurge-ready shoppers. Celebrating Pomellato's 50th anniversary, the Iconica collection features diamond rings, gold bands, pendants, and bracelets in both rose and white gold — a great choice for anyone looking for a new way to wear the rose-gold trend. Or if you love the look of mixed metals. And if you have a few thousand dollars.
The simple gold bands are inspired by Pomellato's popular 1970s rings, but the true showstoppers are the bands playfully arranged in the shape of stars, triangles, and, well, diamonds. See pieces from the collection below.
Photo: Courtesy of Pomellato
Photo: Courtesy of Pomellato
Photo: Courtesy of Pomellato
If you buy something through our links, New York may earn an affiliate commission.