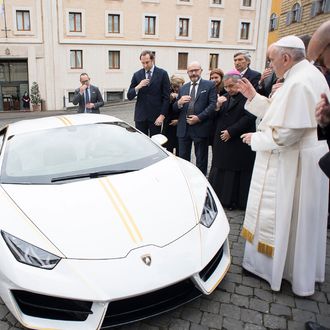 Lamborghini mercy.
Photo: AP
Pope Francis was presented with a Lamborghini that matched his papal vestments on Wednesday, which he promptly blessed. (Come for the image of the Pope blessing a car, stay for the Italian businessmen in suits solemnly making the sign of the cross around said car.)
The Lamborghini Huracan, worth over $200,000, will be auctioned off and the funds given to various causes, the Associated Press reports, including one that helps Christians in Iraq's war-torn Nineveh Plains.
The Cool Pope, meanwhile, prefers a more modest whip: his Blue Ford Focus.