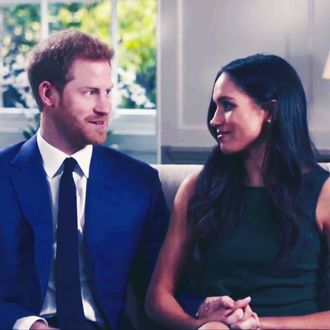 Prince Harry and Meghan Markle on the BBC.
Photo: Courtesy of BBC
The Meghan Markle engagement parade continues with Prince Harry and Markle's first joint interview with the BBC. In the live interview, which just aired, reporter Mishal Husain asked the newly engaged couple all about how they met (blind date), where they got to know each other (camping in Botswana), and how Prince Harry proposed (at home, over roast chicken). You can watch a clip of the two talking about the proposal here:
Prince Harry said that he proposed on a quiet Sunday night at Kensington Palace earlier this month, and Markle noted that the two were roasting a chicken at the time. (Engagement chicken: perhaps it is real).
The BBC has a recap of the full interview here. Another interesting tidbit: Prince Harry said he had never heard of Markle when they were set up on a blind date in London about a year and a half ago. This goes against previous reporting by "royal expert" Katie Nicholl, who claimed in October that Prince Harry was a fan of Markle's show Suits and called her his "ideal girl" two years before meeting her.
Also of note: Prince Harry and Markle held hands throughout the interview. Already, their body language and self-presentation is coming across a lot more naturally than their predecessors.