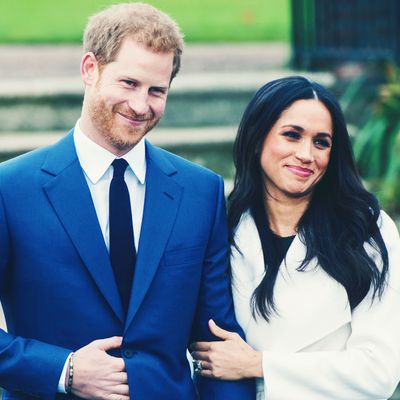 Prince Harry, Meghan Markle.
Photo: Samir Hussein/WireImage
Years and years and years ago, all the way back on Monday, Prince Harry announced his engagement to Californian queen Meghan Markle. The following day, his sister-in-law Kate Middleton issued an extremely polite congratulations — and on Wednesday, his brother Prince William shared his equally warm sentiments about the upcoming nuptials.
"We're very excited and delighted for them both, and wishing them all the happiness in this very exciting time," Prince William told reporters. "And for me personally, I hope it means he stays out of my fridge and will stop him scrounging my food, which he's done for the last few years."
The future king continued, "It's a fantastic process to go through — the engagement and then the buildup to the wedding. They've got a lot of happy times ahead of them. I think they're very caught up in the moment and I wish them all the happiness and success in planning the wedding. I hope it goes really well."
So, he got the brotherly ribbing in there, but overall: supportive!