Aidy Bryant wants me to choose the crystal that speaks to me. "Aren't you attracted to this?" the 30-year-old SNL actress whispers in hushed reverence, pressing her face up against a $4,170 purple orb in a glass display case at Chelsea's Rock Star Crystals. "I'm very attracted to this."
Bryant moves through the store slowly, past the shelves of yellow-gold citrine quartz and sparkly agate geodes, stopping intermittently to point out things that appeal to her. "I bought one of these last time — I'm attracted to these," she says, picking up a green fluoride pyramid and turning it around in her hand. Then something else catches her eye. "Ooh, rose quartz!" she says, bending down to reach into a bucket of cloudy pink rocks. "Hmm, they're really big though. I don't want to make you a full freak, y'know?" She pauses at a section labeled "massage wands" and gives me a knowing look. "Half of this stuff I'm like … is this a dildo?" she says, holding up a curving, palm-size crystal wand. "What if I bought you a dildo?"
I'm not sure exactly how we decided that today would be the day I started my very own crystal dildo collection, but Bryant's enthusiasm is contagious. "I don't know anything about crystals; I just go and buy these rocks," Bryant tells me earlier, over lunch at Sullivan Street Bakery. She's wearing a red and blue checkered T-shirt-dress that she designed herself, a schoolgirl–high ponytail that flops to one side, and an expression of alert, curious intelligence. A round diamond ring — from her recent engagement to long-time boyfriend and fellow comedy writer Conner O'Malley — sparkles on her finger. "I have the most millennial crystal collection ever," she tells me. "I don't know what any of them mean and I never charge them."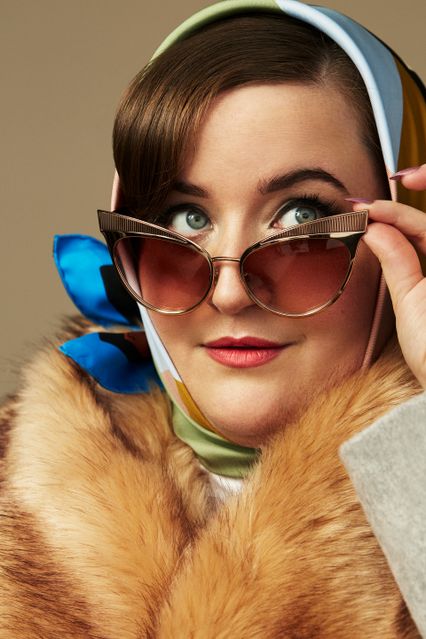 On Saturday Night Live, Bryant's signature characters — Girlfriends Talk Show host Morgan, Tinkerbell's brash sister Tonkerbell, MC alter-ego "Li'l Baby Aidy" from the SNL girl-group music videos — are women who bristle with confidence and ferocious sexual energy regardless of how the world sees them. "Those are the things that I love and always find really funny: confident, stupid people," she confesses, with a laugh that makes her pink cheeks glow. Being in Bryant's presence is an instant mood-booster; she's like a human heat lamp, radiating good vibes.
Atop Bryant's Instagram feed (where she has 500,000 followers), a string of ultragirly emojis — unicorn, bow, nail polish, heart, flowers, crystal, candy, poodle, cake, present, ribbon — surround the word BAD in all caps. Hanging out with Bryant is a bit like existing inside that caption: mostly hearts and rainbows, with an occasional burst of subversive BAD-girl energy. Passing a group of small, similar-looking white dogs engaged in a frenzied meet-and-smell on our way to the crystal shop, Bryant coos, "aww" before looking at me and adding, sotto voce: "Imagine seeing a dog that looks exactly like you and being like, I wanna fuck that."
Bryant was born in Phoenix, Arizona; she moved to Chicago to study comedy and joined SNL in 2012, at age 25 — one of the show's youngest-ever cast members — where she quickly made her presence felt. While most recent conversations about SNL have focused on the show's reinvigorated political efforts, an equally prominent development has been the rise of a new and distinctly feminine comedic sensibility, which Bryant has been instrumental in shaping. Her most memorable sketches — like "A Girl's Halloween," in which a group of friends put a ton of effort into Halloween costumes that rapidly devolve into mascara-smeared horror shows, or the recurring skits in which she plays a horny tween on a sleepover lusting after her friends' hot dads — are a refreshing change from SNL's usual boys' club antics. The girl-group music videos Bryant co-writes feature the whole female cast singing about the ephemera of millennial women's lives, like having to have sex in your childhood bedroom when you go home for the holidays ("(Do it on My) Twin Bed," which won an Emmy nomination) and remembering the embarrassing guys they first got horny to ("First Got Horny 2 U"). "There were so many great Lonely Island videos that we loved, and you never really saw those from the girls, so we were sort of like, What if we try to do this from a female perspective?" Bryant explains.
The last year's Trump-centric emphasis has meant a bit less of Bryant on the show; political stuff is "not really why I started doing comedy," she says. (Still, she did successfully infuriate Mike Huckabee with her Sarah Huckabee Sanders impression.) Of Trump's infamous stint as host, she shakes her head in dismay. "I don't think anyone thought it was real," she remembers. "In a weird way I kind of thought it would be the nail in his coffin. I was like, Oh, this is a buffoon — for him to do this, it's not presidential and it's self-involved. I thought it would be the end." Her preferred mode is "silly character-y stuff." Like her favorite sketch this season, a two-hander opposite Ryan Gosling, where she played a chicken — in a fully feathered chicken suit — and he played a fugitive who had fallen in love with her. "Ryan was taking it so seriously in rehearsal," she recalls. "He's like a serious-ass actor asking us, But why? Why do I love her? Like, these beautiful questions that we were talking about so seriously. At the end of the week, Lorne [Michaels] was like: LOOK, IT'S JUST A LOVE STORY, AND YOU HAVE TO PLAY IT AS A LOVE STORY."
Kate McKinnon is Bryant's best friend on the show; they share an office, and co-created the instant classic sketch "Dyke and Fats," in which they play '70s cops named Les Dykawitz and Chubbina Fatzarelli. McKinnon has recently found mainstream stardom in films like Ghostbusters and Rough Night. When she won her first Emmy last year, Bryant says the pair skipped out on the after-parties and went back to eat pasta together in their hotel room. "It never changed our relationship. I think maybe it's made us closer," she says of McKinnon's breakout success. "I'm not in a race against anyone. I probably have never been more happy in my life than when Kate won her first Emmy."
So far, Bryant's biggest non-SNL outings have been a small role in The Big Sick, a Vimeo short called Darby Forever (inspired by the imagined inner life of an employee at a fabric store she frequented back in Phoenix), and a recurring role as Shoshanna's boss Abigail in Girls, who ends up getting together with Ray (Alex Karpovsky) in the final few episodes. "I turn down so many things, because so often movie stuff that I get sent is demeaning in some way," she says. "Characters where an entire plot point is, How could any man want to fuck me? Stuff like that, where it's like, Well, that's not reality and that's psychotic and offensive."
Like her characters, Bryant comes across as supremely confident in her own skin. But growing up in the desert heat of Phoenix, Arizona, where tank tops and swimsuits were year-round attire, Bryant spent her teenage years on the well-trodden path of dieting and self-deprivation. "I was spending so much energy on something that really, no matter what I did, wasn't changing. And I truly got to a breaking point. I was like, How much longer can I do this? Can I do this for the rest of my life?" She recalls the moment that she stopped focusing on trying to be skinny as "a switch flipping."
"I finally was like, What if I put all of that energy into just trying to like myself and focus on the things I actually want to do as opposed to this thing that's like a made-up concept? And I'm not kidding, my entire life changed after I did that. Within two years, I was hired by Second City; two years later I was hired by SNL," says Bryant. "I stopped letting it be an all-day, everyday thing that defined everything that I did," she says, snapping her fingers. "And it worked."
It was only once she started doing shoots for magazines that Bryant really felt her size as a marker of difference. She recalls an early photo shoot with McKinnon and Cecily Strong, where she ended up having to wear her own jacket and sweater because the magazine didn't have any good options that fit her. "It was just humiliating," she says. "The other girls had racks of clothes to chose from and were wearing these thousand-dollar dresses, and I had two sacks or like one matronly mother-of-the-bride dress. Those were the first times where I was like, Something is different here and this isn't fair. This is a fucked-up situation, and it's purely because of my body. Not because I'm less funny — it's my body. It's the only reason that I'm treated differently right now. And it lit a fucking fire in me."
Bryant, who wears a size 18, has her share of fans in the fashion world — Eloquii and Tanya Taylor have made her custom dresses. Mostly, though, she makes her own clothes, with the help of Remy Pearce, a stylist who's worked on SNL and 30 Rock. In the past, Bryant has hinted at the possibility of selling her own line, and she confides over lunch that the plans are now in motion.
Right now, she and Pearce are in the process of taking patterns custom-fit to Bryant and adapting them for sizes 12 to 24. The plan is to start slow, with one style of dress in a couple of prints. "I'm just trying to get the things that I have access to out there for the masses — like when I wanted something cool to wear to a meeting or an audition or whatever and not just be wearing a black sack," she says. "Although I love a black sack. Black sack is my mainstay. But if you don't have a choice, you're trapped, you know?" she says. "I feel like there's almost two zones of plus-sized clothing. It's either full sweatpants and huge T-shirts and elastic waist jeans, or it's hypertrendy with a shoulder, a bow, a button, a print, a zipper." She gestures frenetically to different parts of her body like she's doing the Macarena. "It's almost like, These girls have never had style, we're going to throw it ALL at them. And I so often am longing for something that's a little easier, cooler," she says. "Stuff you can wear every damn day to run errands and go to meetings, that isn't a full party dress but isn't, like, sweats. Flattering but still comfortable."
She says she feels a "moral obligation" to make the things that work for her more accessible to others. "I didn't try to get on SNL to be a body-positivity activist, but apparently just being there makes you one. It's this weird kind of thing where you're like, I guess I kind of am. It's literally just not what I came here to do." Still, Bryant knows how much it matters for young people to see people who look like her in the public eye. "It sounds so corny now, but representation does fucking matter. And I remember how as a child I was obsessed with Rosie O'Donnell even though that wasn't exactly what I wanted to do, but I was like, Oh my god, someone who's a little bit like me on TV."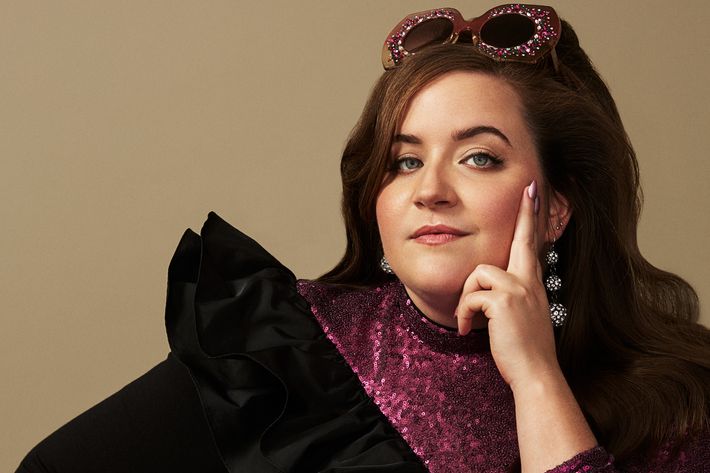 Style, self-presentation, and aesthetic self-expression have always been important to Bryant. Her mom runs a popular Phoenix clothing boutique called Frances, and decorated the family home in a colorful mishmash of knickknacks and oddities and hand-painted art. "I think some part of me is trying to do a poor man's version of my mom," says Bryant, before listing her favorite objects in her current apartment, which she shares with O'Malley and their poodle-terrier mix Fuzz (named after their favorite Ty Segall album): a rabbit-shaped pink watering can from Iceland, a pair of steel and porcelain horses from her artist grandma, and a framed Chicago Transit Authority map that her fiancé stole when he was in high school. "I love thinking of him as a 16-year-old ripping it off the train," she says fondly. (Bryant and O'Malley are also appearing together on an upcoming episode of Amy Sedaris's crafting show At Home With Amy Sedaris.)
By the time we have scoured the crystal shop, Bryant has gathered four possible options to start me on my journey of rock-based self-improvement. "I want to make sure you're vibing on it too, so what if I pick you a few and you choose one, and then it will be my gift to you, to really balance you out?" she says. After weighing their pluses and minuses, I point uncertainly at a piece of sparkly pyrite, which is intended, according to the cashier, to bring abundance, wealth, and luck, and costs a bearable $22 dollars. "This is you, that's what you need," Aidy says, with a tone of such conviction that I can't help but believe her. "That's the one."
Despite what she calls her "rage against the machine" regarding sizeism in the industry, Bryant mostly comes across as one of those mythical New Yorkers — a real-life unicorn emoji — who seems mostly happy in her everyday life. "I feel like sometimes when people get SNL there's a major question of like, 'What is the next thing?' And it's like, I just got to SNL and I'm loving it. I really do. I love it. I love it more now even than when I started," she says. I ask her if she thinks of herself as a happy person, and she pauses thoughtfully. "I think so, although I do think maybe from my public persona people think that I'm crazier or kookier than I am. I really just like to be alone with my dog in my apartment surrounded by my little trinkets."
"By the way, I'm sorry for making you buy a $22 crystal," she says as we leave the store. Just then, a dog walker passes by with a pack of small dogs. "Ooh, little tinies!" she exclaims. "That's a good omen." She gives me a big hug good-bye, and I pocket the sparkly rock and head off to see what new luck awaits me.
Lead image credits: Emporio Armani hat, $295 at Armani. Lulu Frost earrings, $225 at Lulu Frost. Marina Rinaldi tuxedo jacket, $1,145, and top, for similar styles at Marina Rinaldi.