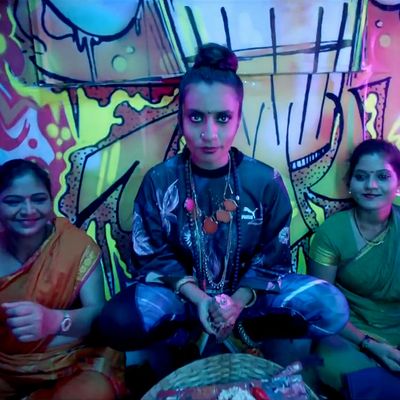 Puma accused of defacing Delhi buildings with graffiti in new campaign.
Photo: Courtesy of YouTube/Puma
Sportswear brand Puma is learning the hard way that perhaps it actually isn't a good idea to deface historic buildings to sell shoes — at least, not if you don't want a bunch of conservationists to be pissed at you.
The Guardian reports 17th-century buildings in Delhi's old quarter were spray painted with colorful murals as part of Puma's new advertising campaign (and accompanying video), which the company says "captures the grit of Indian streets." And conservationists are apparently upset Puma messed with the quarter, which The Guardian notes was established by Mughal emperor Shah Jahan.
One historian, Rana Safvi, told The Guardian, "This is in effect defacing a heritage area." Another, Swapna Liddle from the Indian National Trust for Art and Cultural Heritage, told Agence-France Presse, "Those who made and approved this advertisement, those who stood by while this was done, are all responsible for this insensitive treatment."
Although there are laws that forbid advertisements on historic buildings, conservationists told The Guardian that those rules are rarely enforced. Meanwhile, a spokeswoman for Puma told the Indian Express that "all necessary permissions were sought." So it sounds like Puma will be in the clear on this one — just not among the conservation crowd.