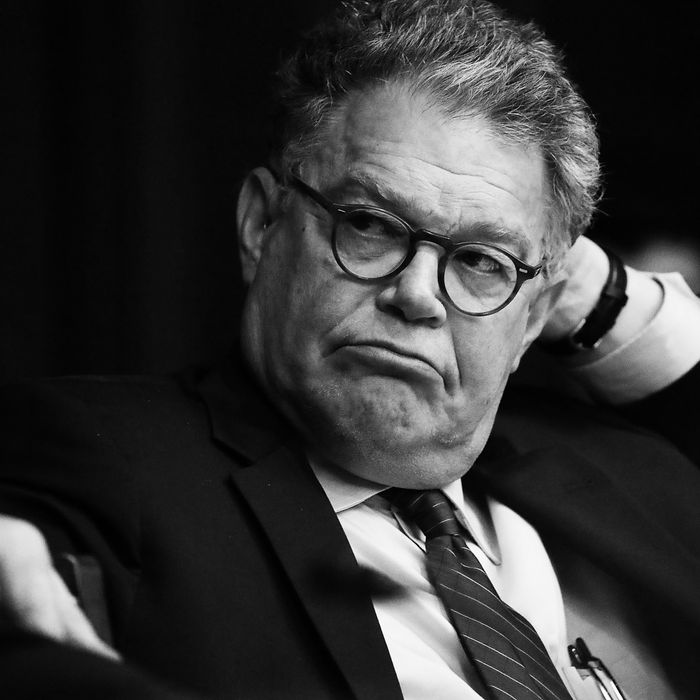 Photo: Joe Raedle/Getty Images
Senator Al Franken was accused Thursday of kissing and groping a TV and radio host without her consent. Leeann Tweeden, who has previously worked for NBC and Fox Sports and currently works on "McIntyre in the Morning" on KABC/790 AM, wrote on the radio station's website about her encounter with Franken.
It took place in 2006 when the two of them were a part of a USO trip to the Middle East, she writes. Franken had written a sketch that had the two of them kissing and, before they performed, he insisted they rehearse it despite Tweeden's refusal.
He continued to insist, and I was beginning to get uncomfortable.




He repeated that actors really need to rehearse everything and that we must practice the kiss. I said 'OK' so he would stop badgering me. We did the line leading up to the kiss and then he came at me, put his hand on the back of my head, mashed his lips against mine and aggressively stuck his tongue in my mouth.
She also writes about falling asleep on the plane ride home to Los Angeles. The picture in the tweet above was taken while she slept and it was only later that she realized what happened.
I couldn't believe it.He groped me, without my consent, while I was asleep.




I felt violated all over again. Embarrassed. Belittled. Humiliated.




How dare anyone grab my breasts like this and think it's funny?



Franken responded to Tweeden's allegation in an emailed statement to an NBC reporter. "I certainly don't remember the rehearsal for the skit in the same way, but I send my sincerest apologies to Leeann. As to the photo, it was clearly intended to be funny but wasn't. I shouldn't have done it," the statement said.