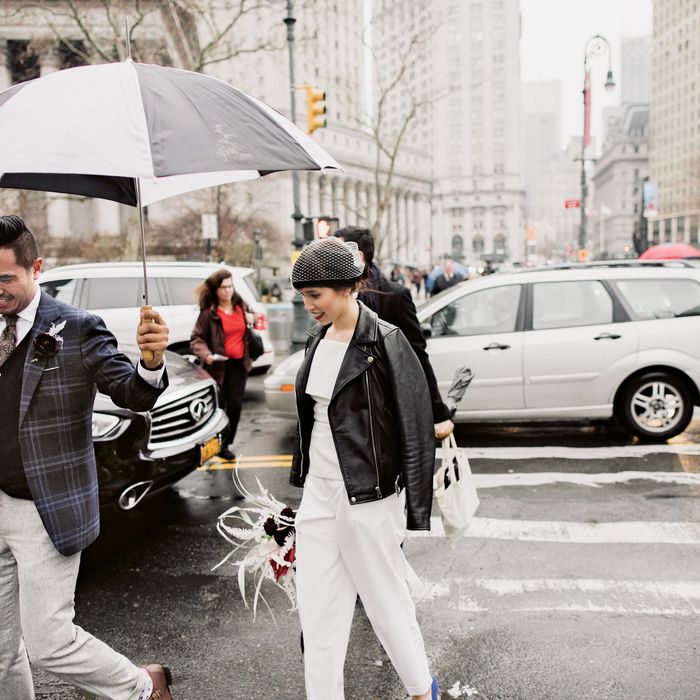 "I'm Filipino, she's Vietnamese-Honduran. We needed Asian food," says the groom of their lunch venue.
Photo: Unique Lapin Photography
Natalie Le, 33, and Chaz Cruz, 34, had a big October 2017 wedding planned, until, Cruz recalls, "I woke up on November 9 and said to Natalie, 'I do not want to get married under a Trump presidency.' " Adds Le, "We were like, either wait four years or move it up sooner." They waited until the holidays were over and flights were cheaper, then asked their respective California families to fly out to watch them exchange vows at City Hall just days before Trump's inauguration. As a wedding photographer himself, Cruz was very focused on their outfits and flowers. "I've seen so many ill-fitting suits in my day. I knew I had to style it out," Cruz says, while Le, a freelance makeup artist, did "a pantsuit thing" with a headpiece borrowed from a friend. After the ceremony, their 17 guests slurped dan dan noodles at Han Dynasty; more friends joined later for celebratory drinks at the Moonlight Mile in Greenpoint. They still held their regular wedding ten months later, though. Says Le, "I definitely wanted some of the tradition — and a big dance party."
The Details
Bride's Outfit: Misha Collection top, DKNY pants
Suit: Suitsupply
Flowers: Fox Fodder Farm
Rings: Anna Sheffield
Photographs By: Unique Lapin Photography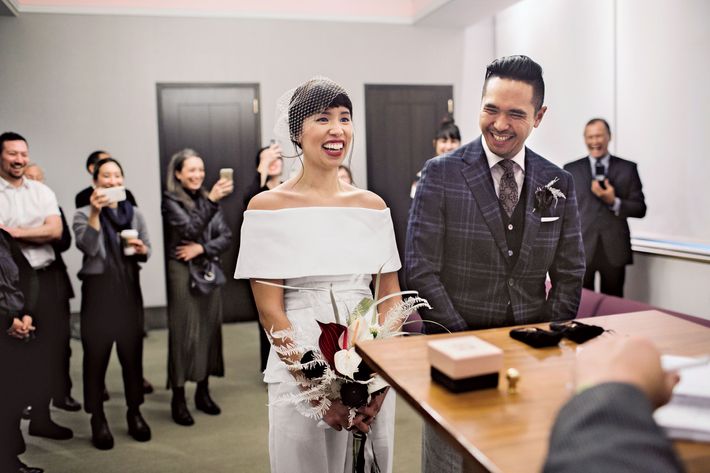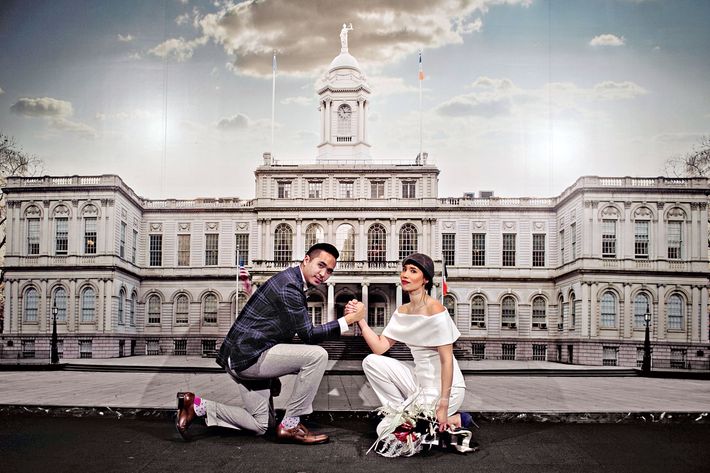 *This article appears in the winter 2018 issue of New York Weddings.