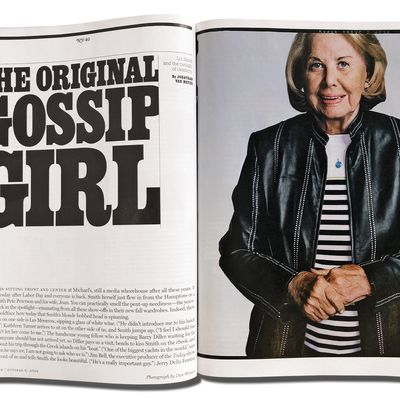 From New York, October 6, 2008.
One day about ten years ago, I had lunch with Liz Smith at Michael's. For the 40th anniversary of this magazine, my editor had asked me to indulge her in some promiscuous, sweeping reminiscence about her 33-year run as a tabloid gossip columnist. I had known Smith since 1989, when she'd agreed to let me trail her for several weeks so I could write about her for 7 Days magazine. At one point, Smith, who had been catching grief for being too chummy with her subjects, had said defensively to me, "Barbara Walters's whole career wasn't made on her talent. It was made on her ability to get access." When the piece was published, Smith sent me a letter telling me that Walters was furious and that the friendship might be over. And then Smith took me to dinner at Le Cirque, where Sylvester Stallone joined our table for a while and we all got "potted to the gills," as Smith liked to say.
But back to that lunch at Michael's. I told Smith something that happened not long after my 7 Days story was published: I went to a party where the host introduced me to Walters, who immediately recognized me as the person who had written the offending piece. After trying to vaporize me with a deadly stare, Walters turned her back to me and walked away. At Michael's, Liz savored that image for a moment, took a sip of her drink, and said, "Oh, fuck her."
One of the raps on Liz Smith — even in her obit in the Times last week — was that she was irretrievably obsequious, an unreconstructed ass-kisser who never met a celebrity she didn't slobber all over. But she was misunderstood right to the end. She'd be happy to tell you exactly what she thought of anyone she'd ever met. All you had to do was ask. "I've met thousands of celebrities that I thought were so idiotic," she once told me.
"But why would I want to damage these people because they didn't appeal to me?" And this: "All of my life I've been a devout coward, but once I got the column, I had to live or die by it. And it's the frightening aspect of it, the idea that you might fuck up, that really made a person out of me."
She seemed — always — to be in genuine conflict with her gender. "Ouch," she said to me late one night at a Chinese restaurant on 48th Street, as she pulled off her earrings. "God, don't ever be a girl. Women have a lot of torment, like panty hose and horrible things that civilization has thought up for them." She took a sip of her martini. "Actually, a lot of women love all that stuff. I think women are very interesting creatures." (As if she herself weren't one of them!) As she told Lisa DePaulo in a cover story for New York in 2000, "I never could make too much distinction between men and women … I don't even want to use the term bisexual. Because it seems weaselly. It's a weasel word! And I'm not gonna categorize myself." No labels: What could be more modern that that?
If Smith had a blind spot, it wasn't fame — it was masculine power. "One of the greatest things that happened in having this column is that I finally was able to have a lot of men as friends," she once told me. "They are all tycoons and bankers and movie executives. I love these guys! I see these rich women who only go out to lunch with other rich women who are exactly like them, or gay people who only have gay friends. I think all of that is so demented. It's important to live a complicated life."
No wonder Smith was forever entangled in public feuds, always with difficult men. There was Bobby Zarem, who for 25 years announced weekly that Smith was about to be fired — was all washed up. She got into a fight with Frank Sinatra, "and he began to denounce me from every stage in America. And I don't think people had ever heard of me! He made me famous!" And then there was The Donald. Smith covered the Trump divorce for the Daily News (always from Ivana's side) as if it were Watergate, a tabloid saga that landed Smith on the front page of the very paper she wrote for — pictured escorting Ivana into La Grenouille. "In retrospect, it was a story about rich people getting a divorce," Smith said to me. "It had absolutely no other significance or meaning whatsoever."
In that 7 Days story, I wrote that "Liz Smith was being cannibalized by the form she devised." Turns out I had it all wrong: She outlived the form she devised. Gossip is dead and so is Liz Smith, and Donald Trump is president. "I can't believe I took it all so seriously," she said to me once. "Let me ask you a question: Am I still as big of an asshole? Have I learned anything?"
Engrave this on her tombstone in your mind: It's important to live a complicated life.
*This article appears in the November 27, 2017, issue of New York Magazine.