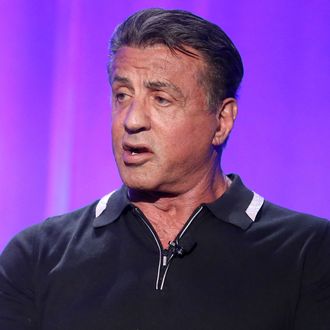 Stallone.
Photo: Frederick M. Brown/Getty Images
The Daily Mail has obtained a police report that accuses Sylvester Stallone of forcing a 16-year-old girl into a threesome with him and his bodyguard at a Las Vegas hotel in 1986. According to the report, which the former head of the Vegas metro police department's sexual-assault unit verified to the Mail, both Stallone and Michael De Luca allegedly sexually assaulted the unnamed teenager at the former Las Vegas Hilton hotel during the filming of Over the Top. The girl, a hotel guest, says she was introduced to Stallone, then 40, through his co-star on the film, David Mendenhall, after meeting him at the hotel's arcade. She claims Stallone had De Luca, then 27, proposition her after she asked for Stallone's autograph. She says Stallone complimented her body after learning of her age and told her he would "give her a kiss at a later date, that she would not forget."
The report alleges that De Luca gave her keys to a room at the hotel, where she willingly had sex with Stallone while De Luca was in the bathroom. (The age of consent in Nevada is 16.) She claims Stallone then asked her if she'd ever had a threesome and then allegedly forced her to perform oral sex on De Luca. According to the report, De Luca proceeded to have sex with the teen without her consent; Stallone then allegedly forced her to perform oral sex on him. She claims Stallone threatened to "beat her head in" if she reported the incident and the two men laughed. The teen told police that she felt "uncomfortable" and "intimidated" when Stallone brought De Luca into the situation and would not have otherwise pursued the matter with law enforcement.
A hotel employee who was notified of the alleged incident by a friend of the victim reported it to police. The teen did not press charges against Stallone or De Luca because she says she was "humiliated and ashamed" and did not wish to discuss the incident any further. In 2013, De Luca was killed by California police during a traffic stop. In 1987, Stallone's half-sister Toni-Ann Filiti sued the actor for rape, which Stallone denied. The Mail could not reach Stallone for comment on the 1986 report.
Update, 3:50 p.m.: Stallone's spokesperson has denied the accusations made in the 1986 report in a statement to TMZ:
"This is a ridiculous, categorically false story. No one was ever aware of this story until it was published today, including Mr. Stallone. At no time was Mr. Stallone ever contacted by authorities or anyone else regarding this matter. It never happened."