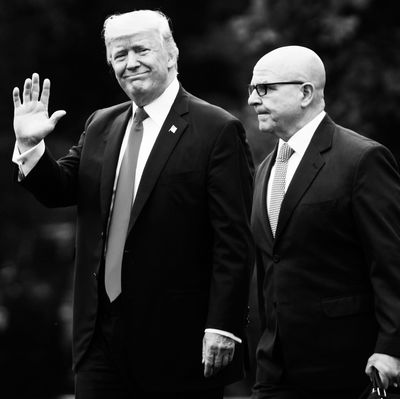 Donald Trump and H.R. McMaster.
Photo: The Washington Post/Getty Images
Remember when reports surfaced that Secretary of State Rex Tillerson called Trump a "fucking moron" during a meeting? Here's the long-awaited sequel: BuzzFeed reports that National Security Advisor H.R. McMaster referred to his boss as an "idiot" and a "dope."
The reports come primarily from a dinner that McMaster had with tech executive Safra Catz in July, though another source told BuzzFeed that McMaster had made such comments to him in private.
Over a July dinner with Oracle CEO Safra Catz — who has been mentioned as a candidate for several potential administration jobs — McMaster bluntly trashed his boss, said the sources, four of whom told BuzzFeed News they heard about the exchange directly from Catz. The top national security official dismissed the president variously as an "idiot" and a "dope" with the intelligence of a "kindergartner," the sources said.
That dinner was reportedly a messy affair, with BuzzFeed also reporting that, along with the president, McMasters expressed negative comments about Tillerson, Steve Bannon, James Mattis, and Jared Kushner.
Oracle and the Trump administration have denied the comments about the president, with National Security Council spokesman Michael Anton using the old "opposite day" defense: "Actual participants in the dinner deny that General McMaster made any of the comments attributed to him by anonymous sources. Those false comments represent the diametric opposite of General McMaster's actual views."
Meanwhile, the countdown to a Trump IQ test tweet begins.