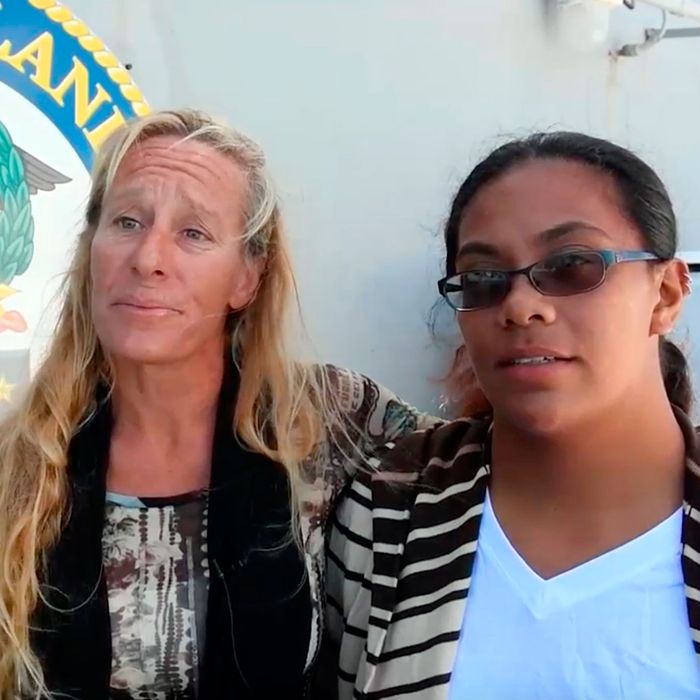 Jennifer Appel and Tasha Fuiava.
Photo: Mass Communication Specialist 3r/AP
In May, Jennifer Appel, Tasha Fuiava, and their two dogs sailed away from their home of Honolulu, bound for Tahiti. A Taiwanese fishing vessel spotted their boat five months later off the coast of Japan, and the U.S. Navy rescued them shortly afterwards. Their story received a swell of media attention — which, the women revealed to The Guardian in a new interview, has been hard for them to deal with.
Initially, the focus was on their incredible rescue. But shortly afterwards, various parts of their story were revealed to be inconsistent. They defended the parts that didn't check out during a Today show interview, then came forward with a bizarre claim: the Taiwanese fishing vessel was actually attempting to kill them. (The Taiwanese Ministry of Foreign Affairs has categorically denied this.)
Speaking to The Guardian, both Appel and Fuiava expressed desires to be out at sea again. Fuiava said, "It is beautiful out there. You don't smell the city life. It doesn't get blocked out by the lights." Appel said that while she is "incredibly appreciative of the navy," she admitted that "if I had it to do again, I would just keep going." This process seems to be especially difficult for her:
Appel said she was still hoping to find her boat, which was her only home. In the meantime, her dogs must get two vaccines 30 days apart before they can be let back into Hawaii. She said she left her wallet on Sea Nymph and was running out of money. Her family doesn't want to talk to her. On top of that, a tabloid published nude pictures of her taken when she dabbled in dominatrix work a decade ago. And, she said, a tinge of exasperation in her otherwise enthusiastic voice, she has no hope of recovering insurance money from her lost boat "because it was outside of the 400-mile radius [from shore]". She was also irritated at the bad press. "People think I'm making a movie or a book. I haven't signed anything yet."
Read the full interview here.