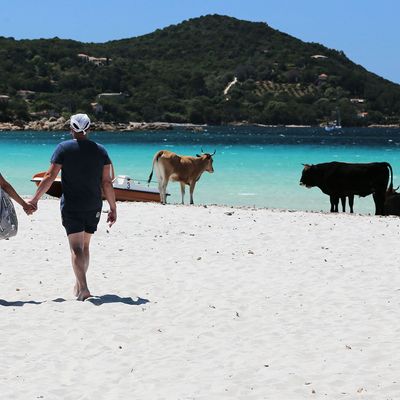 Photo: Pascal Pochard-Casabianca/AFP/Getty Images
Overwhelmed by their bottomless bank accounts, rich people have figured out a new way to relieve themselves of an extra few thousand dollars a year: by hiring a cameraman to follow them around on vacation, capturing them wading through waist-deep ocean water and exploring a new city like total locals, and then making a video out of the footage.
The trend was acknowledged by Andrew Gemmell, a U.K.-based filmmaker who told The Guardian that an increasing number of his wealthy clients are expressing interest in these personal videos — a product that would likely interest no one other than those who were on the vacation. He believes the trend is a result of the ubiquity of video on Instagram and other social media platforms.
"They want content that's relevant to them," he told The Guardian. "So they're thinking: 'well, if I'm going to spend a week away with my mates or my family, then let's get it properly documented.'"
Just this past year, Gemmell has traveled everywhere from Sicily to the Masai Mara reserve in Kenya with his bag of drones, lights, and cameras to film vacations. And, while one day of filming costs nearly $3,500, Gemmell's client Emilia Whitfield told The Guardian that it's totally worth it.
"So far he's just teased us with a 90-second trailer," Whitfield said. She's excited for the rest.
Lisa Ridd, who produces short films using people's own mobile phone footage at her New York–based company Smitten Films, has also noticed an increased demand for "summer holiday videos."
"What people shoot is not perfect and it's not always beautiful. But it's authentic," she told The Guardian. "It's about telling the story of your life."