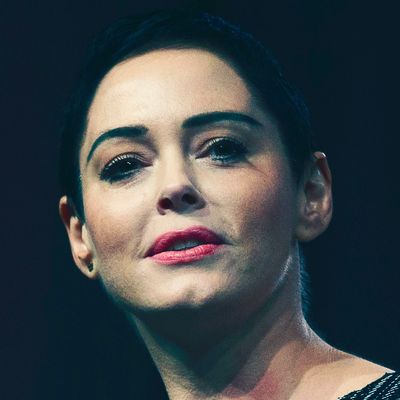 Rose McGowan.
Photo: RENA LAVERTY/AFP/Getty Images
Actress Rose McGowan turned herself in Tuesday for a felony drug-possession charge dating to February 1, 2017, The New Yorker reports.
In a new interview with The New Yorker's Ronan Farrow, McGowan said she was traveling to Virginia's Dulles Airport for the Women's March and lost her wallet on the January 20 flight. When airport officials found the wallet, they discovered two bags of cocaine inside.
Officials said they "attempted to contact" McGowan to get her to return to Virginia for a court date, but in the end, they submitted the warrant to a national law-enforcement database.
Speaking with The New Yorker, McGowan acknowledged that she didn't immediately call the cops back. (But this was apparently because she thought Weinstein was following her, which as it turns out, may have been the case.)
When McGowan and her lawyer, Jim Hundley, did finally communicate with law enforcement, they pointed out that there was plenty of time for the drugs to have been planted.
"Depending on when and where the wallet was lost, individuals other than Ms. McGowan had access to the wallet for somewhere between approximately 5 hours 40 minutes and more than 11 hours," Hundley wrote to the court in Virginia.
McGowan also insisted she had no interest in cocaine that weekend. "Imagining I'm going into sisterly solidarity, I can think of nothing more opposed to that, energetically, that I would want in my body at that moment," she told The New Yorker.
She was released on a $5,000 bond Tuesday and will most likely be assigned a court date.
In the meantime, she plans to hold her ground, and told The New Yorker: "I will clearly plead not guilty."
This post has been updated throughout.