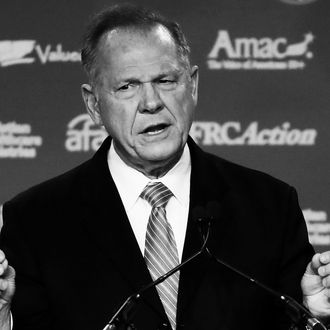 Roy Moore.
Photo: Mark Wilson/Getty Images
On Thursday, the Washington Post published the accounts of four women who say Alabama judge Roy Moore pursued them when they were underage, back in the late '70s and early '80s. The women — Leigh Corfman, Wendy Miller, Debbie Wesson Gibson, and Gloria Thacker Deason — were all between the ages of 14 and 18, while Moore was in his 30s and working for the district attorney at the time.
Moore, who is running for a Republican Senate seat, has denied the allegations. His defenders, meanwhile, have either dismissed them as false attacks by the liberal media or invoked curious Biblical arguments to support the behavior for which he's been accused.
On Friday, Moore appeared on Sean Hannity's radio show to give his first interview since the Post story broke. Per Guardian reporter Ben Jacobs, he said he "didn't remember" several things from that time period. For instance, "I don't remember dating any girl without the permission of her mother."
Moore also claimed that he does not know Leigh Corfman at all. Corfman told the Post she was 14 at the time she first met Moore, and that he first approached her while her mom was inside a child-custody hearing:
Alone with Corfman, Moore chatted with her and asked for her phone number, she says. Days later, she says, he picked her up around the corner from her house in Gadsden, drove her about 30 minutes to his home in the woods, told her how pretty she was and kissed her. On a second visit, she says, he took off her shirt and pants and removed his clothes. He touched her over her bra and underpants, she says, and guided her hand to touch him over his underwear.
Near the end of his Hannity segment, Moore stopped saying he couldn't remember anything and emphasized that "it never happened," calling the allegations "politically motivated.