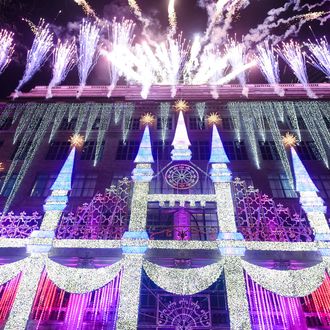 Saks Fifth Avenue.
Photo: Joe Schildhorn/BFA.com
There seemed to be some bad juju going around New York City on Monday. More so than usual, which is saying a lot. Not only did a scaffolding collapse in Soho — confirming every New Yorker's nightmare to be a real possibility — but a sinkhole also appeared in the middle of West 82nd street.
Over on Fifth Avenue, however, things were looking merry and bright. That evening, Saks closed off the street to unveil its annual holiday window display, lighting up the entire building's 10-story facade in the process. Snow White and the Seven Dwarfs were there to help, plus the 24-year-old Disney star Sofia Carson, who gave a princess-like performance surrounded by a 40-person choir. To top it off, fireworks erupted off the roof of the store, raining down on the awe-struck crowd below, which included Naomi Watts and Neil Patrick Harris.
Finally, New Yorkers had reason to say "Only in New York," but in a good way.
The theme of this year's holiday windows at Saks Fifth Avenue is "Once Upon a Holiday," and the department store teamed up with Disney to celebrate the 80th anniversary of Snow White and the Seven Dwarfs. For the first time in 94 years, all of its 14 windows are animated, bringing the fairy-tale to life.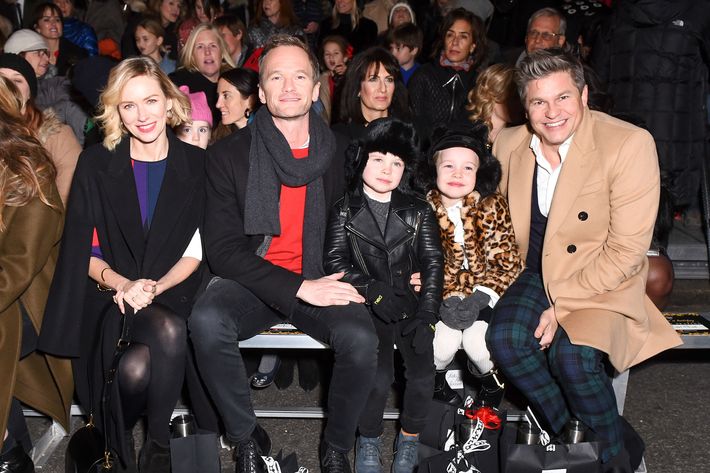 Naomi Watts's mother was a window dresser for a department store in England, and the Australian actress was admittedly nostalgic on Monday night. "There's a real art to it, and a form of expression that I happen to really appreciate," she said of the Saks windows. "I also appreciate Christmas in a majorly cheesy way," she added, saying she'll go as far as listening to a Pandora Christmas playlist.
Neil Patrick Harris, another warm-weather native, said that Christmas in Los Angeles doesn't stack up to New York. "Here, there's so much quintessential holiday stuff to do," he said. "Whether it's going ice skating or seeing the Rockettes, or walking up Fifth Avenue. It's not only about the amazing window displays and shopping at Saks, it's also about putting a coat on with a scarf and mittens and holding hands and having a real wintertime experience."
In the end, New York relies on its holiday windows every season — that's what it means to have traditions. It turns out that what we really needed this season were some out-of-towners to remind us how good we've already got it.