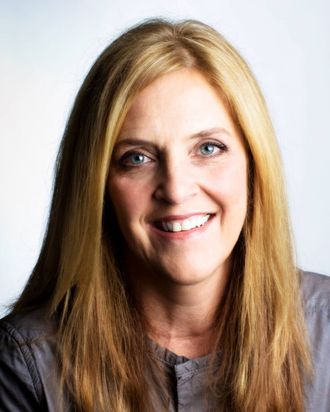 Hofmeister.
Photo: Courtesy of Facebook/sallie.hofmeister
In the weeks since the allegations against Harvey Weinstein exploded, something has changed in how the onetime Hollywood mogul responds to the mounting allegations against him. Where there were once Jay-Z lyrics, now there is polite equivocation. What once read like stream of consciousness is now tight and controlled. And all of that is thanks to one woman: Sallie Hofmeister.
Hofmeister, who works for crisis-management firm Sitrick and Company, was hired by Weinstein on October 8, four days after the scandal broke, in an attempt to do damage control. His lawyer, Lisa Bloom, had just quit after the Weinstein board was exposed to have deep reservations about her approach in the media. Hofmeister's job was to change the tone.
"It's not about a new public image, but rather to make sure that the facts are as accurately and fairly reported as possible," Hofmeister told the Cut of her role in Weinstein's case. And indeed, she's less booking his apology tour than she is providing measured, lawyerly responses to the media as new accusations emerge. "Mr. Weinstein has a different recollection of the events," she said following Lupita Nyong'o's New York Times op-ed. "Any allegations of nonconsensual sex are unequivocally denied by Mr. Weinstein," she said after Gwyneth Paltrow and other big names came forward with their own accusations, on October 10.
But despite how adept she appears to be at handling Weinstein's ever-deepening crisis, Hofmeister wasn't always in the business of celebrity PR. She joined Sitrick and Company after a long and award-winning career at the Los Angeles Times, where she was the paper's first female business editor before eventually managing the arts-and-entertainment section. While it's not surprising for a journalist to move into public relations, what is particularly interesting in Hofmeister's case is that a woman with a history of tearing into studio heads and championing female journalists is now representing a man accused of very serious and extensive sexual misconduct. It's a decision that has left many of her former colleagues and those who know her shocked.
In her 17 years at the Times, Hofmeister made her reputation on holding power to account and investigating the media's biggest business deals. Her exposé of E! Network's Mindy Herman's bad behavior led to Herman's resignation in 2004; she reported on Rupert Murdoch's $1 billion bid for a British soccer team, the internal squabbles of Murdoch's sons at News Corp, and Ted Turner's rage over the AOL–Time Warner merger. Just a year into her tenure at the Times, her team's coverage of Disney's purchase of Capital Cities/ABC Inc. —creating what was then the largest entertainment company in the world — made her a finalist for the 1996 Pulitzer Prize.
"There were audible gasps in the newsroom when we saw it was Sallie representing Weinstein," says one Times staffer. "Our in-boxes, our group text messages: Everyone just kept saying, 'Oh my god, it's Sallie?!'" The handful of current and former Times staffers the Cut spoke with used the same phrase over and over: "This must be killing her."
Killing her, they say, because the Hofmeister they knew then was a trailblazing woman who investigated powerful old men, and supported powerless young women. Like Lisa Bloom, who built her reputation on representing victims of sexual harassment and faced massive backlash after signing on with Weinstein, Hofmeister has spent most of her career on the other side of men like him. If things had gone differently, her colleagues said, she's exactly the type of journalist who might have been chasing the Weinstein story herself.
"In a very male-dominated newsroom, she was a champion for women. She was pushy and ballsy," said one former colleague. Another called her a "bold feminist." Younger staffers say she raised them up and taught them to be better reporters. "She pushed people, including herself, to get the best possible story. She knew Hollywood inside and out. She developed a specialty of dealing with moguls." (She even liked to dress the part of a Rosalind Russell–style old-school newswoman, favoring vintage finds for a look one colleague called "almost punk.")
Hofmeister left the L.A. Times in 2012, not long after new editor-in-chief and publisher Davan Maharaj took over and executed round after round of layoffs. She resurfaced in 2013, as a senior executive at Sitrick.
"There's really nothing that compares with the excitement and challenge of working in a newsroom of a major metropolitan daily newspaper," Hofmeister said. "I was committed and never wanted it to end. But then came the dark years — the shrinking newsrooms and budgets, the fading spirit and morale," she said. "After years of continuous layoffs at the LAT, I began to recognize that after three decades in journalism, I needed to try something new as my final chapter. Some of my colleagues had made the transition to crisis and found it to be interesting work."
Sitrick and Company was founded in 1989, and employs fixers and flacks in five cities across the country. Their past and present client list includes Rush Limbaugh, Chris Brown, Johnny Depp, R. Kelly, Kobe Bryant, Michael Vick, Joe Francis, Hulk Hogan, and the whole of Mötley Crüe. They've steered loathed corporations like Exxon, Wells Fargo, Papa John's, and American Apparel, and the Roman Catholic Archdiocese of Los Angeles after their respective accusations of sexual abuse, and the insurance corporation AIG. Founder Michael Sitrick himself gave up on journalism in pursuit of a better paycheck; he told the Financial Times in a 2010 profile, "I love journalism but I'd rather eat."
Sitrick has a reputation for staffing his office with former reporters, and has said in interviews that it's reporters who can understand news cycles and what the media wants. But being on the other side of the investigation is proving, in this case, to be an enormous test of Hofmeister's skills: Weinstein now stands accused of more than 100 acts of sexual harassment or violence, ranging from hitting on his company's actresses to forced kisses to masturbating in his employees' presence to rape.
When asked why she agreed to take on Weinstein as a client, Hofmeister said, "We have known Mr. Weinstein's attorneys for some time, one for more than two decades, and we have great respect for them. They asked for our help to make sure the facts are reported as fairly and accurately as possible."
A sense of duty wasn't enough for many of Weinstein's trusted advisers to stay on his case. Several of Weinstein's closest advisers have quit amid the ongoing scandal, including public-relations adviser Lanny Davis and lawyer Charles Harder, who threatened the New York Times with a lawsuit before they published their exposé, only to resign ten days after it broke. Weinstein's wife, Georgina Chapman, was already gone by then.
It appears Hofmeister is among the few left standing with Weinstein. Does she believe he is innocent of all 100 (and counting) accusations, or that he's a good person who can change? "Mr. Weinstein has been in intensive therapy for more than a month and plans to continue his treatment indefinitely," she said. "He says he is committed to becoming a better person and, as we know, Mr. Weinstein is nothing if not determined."