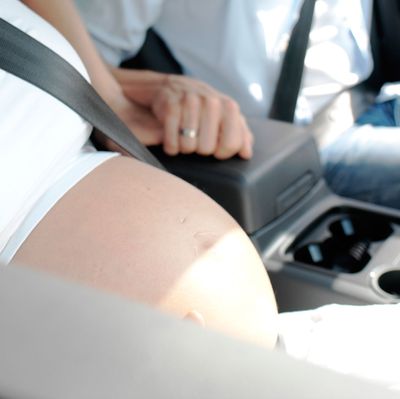 Woman gives birth after husband crashes car.
Photo: Bernd Opitz/Getty Images
San Diego woman Ying Shi found herself in your new worst nightmare early Monday morning: Her husband's car crashed when he was driving her to the hospital after she had gone into labor. But luckily, Shi was able to safely give birth in her sweatpants — and by that we literally mean inside her sweatpants — before help arrived.
Shi and husband Hongwei Zhang were rushing to a San Diego hospital when Zhang lost control of the vehicle and crashed into a concrete barrier, the San Diego Union-Tribune reports. Zhang was able to exit the car and flag down a passing driver, who happened to be a nurse, for help. The man then "ripped" off the car door to get to his wife — but it turned out she had already given birth.
"I looked at her, I said, 'Are you okay?' She sat there calmly and said, 'Yes … The baby's here,'" the nurse, Dayna Dumont, told KSWB, per People. "We kind of pulled her sweatpants down and there was the baby, kind of sitting in her pants."
The police soon arrived, and Dumont held the baby in place while a medic cut the umbilical cord. Both the mom and baby girl, Anna, are doing well, but we only imagine the same can't be said for the sweatpants.