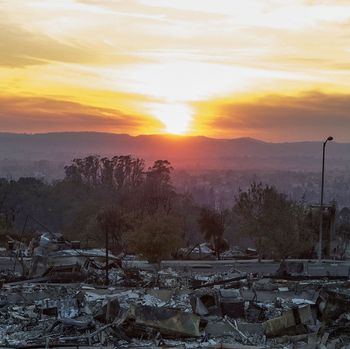 Santa Rosa, after the Tubbs fire.
Photo: David McNew/Getty Images
Last month, I watched the place I'm from burn down. The sleepy city of Santa Rosa, known for its wineries and the Snoopy museum, went up in flames. Around 1 a.m., the Tubbs fire jumped Highway 101 like it was an escaped convict, raging toward freedom. At 3 a.m., I finally woke my mother with a phone call. She looked out the window of her bedroom and said, confused, "Everyone's gone."
My mom was lucky, her place in northwest Santa Rosa was spared. But so much on her periphery is gone. Next to the hospital where my dad died is a mobile-home community, and that was among the first to burn to the ground. The hotel-restaurant where we had breakfast with family the morning after his funeral, that hotel burned down, too. As did the homes of many people I went to high school with, and the home of an older girl who was always better than me at the cello, but always kind to me. So did the Kmart shopping center where my mom usually stopped in after Trader Joe's. The Trader Joe's is also damaged, as well as the performing arts center where I saw Tori Amos and Fiona Apple, where I worked after school for the Santa Rosa Symphony. The woman who taught me traditional Japanese dance during the Buddhist summer festival of the dead, her house burned down, and so did the home of the man who rented me my first violin, and the inn where my sister waited tables, and the converted-stable house of the friend who used to drive me to orchestra camp in the summer. One of my mom's friends had her door axed down because the fires came when she was sleeping.
The Tubbs fire burned a truly representative 36,000-acre swath, from the estates of rich winery owners to the homes of migrant laborers that tend to the vines. From the private Catholic high school with a $15,000-a-year price tag, to the bordering working-class neighborhood of Coffey Park, whose children went to the same public high school I did.
It's a complicated provenance, being from Santa Rosa, growing up poor in a region that's known for spas and Syrahs and Michelin stars, a place that's had a housing crisis my entire life, where the distribution of wealth has only gotten more and more extreme. So when people asked me if my mother's house in Santa Rosa was okay in the wake of the fires, I said yes,  but there's a more complex answer. She lives in a tiny apartment, not a house. She doesn't own that apartment, and never will. The fires stopped a mile from her address, but if she had lost everything, everything would be truly lost, with no hope of payments or rebuilding. When I called her to make sure she was evacuating, I realized there was nothing valuable enough to take with her. She took her insulin and a toothbrush. She's used to starting over from scratch.
We must document what has been lost in these fires, but it isn't just grapevines and views of the valley. It's a way of life that was only barely possible before, and will now be impossible without understanding what the margins were made of.
This is a Santa Rosa that isn't often talked about. My whole life in Santa Rosa, my parents' rents were subsidized by Housing and Urban Development. Every quarter, a state employee would come into our house to inspect it for cleanliness and organization, to make sure we weren't trashing the place, but I understood it as an inspection to make sure we weren't ourselves trash. We paid for groceries at the cheapest grocery store with food stamps, strangers eyeing our cart in line. When I ate my school lunches, kids asked me why I wasn't eating rice since their parents had told them I was a poor rice-eater. I applied for every scholarship for everything, since playing cello isn't a low-income game, and neither is applying to colleges or taking SAT prep courses. My father, a carpenter, did regular work on my cello teacher's home to pay for my already discounted lessons. My cello teacher bought me a nice cello, which my parents paid her back for, week by week. (My cello teacher's home also burned down.)
What I'm trying to say is that there are a lot of ways to live in America, and all of them were present in Santa Rosa. The economic landscape of Santa Rosa is the economic landscape of our country, and last month, we all watched it burn. It's an analog that's impossible to ignore, with so many now displaced, and yet I mostly see coverage of the lost vintages and the big homes with views of the valley. Losses like those will have a major impact on the economy of the region, of course. But it's also important to pay attention to the economics of what happens in the ashes — who gets to speak and who gets to rise and who even gets the option to rebuild.
Now that we have counted the devoured structures and acres, there are first responders to thank. Heartwarming stories with the hashtag #SonomaStrong temper the devastation: dogs reunited with their owners, A's players visiting a kid who'd lost all his memorabilia, firefighters dancing in the long-awaited rain. And just now, I see the arguments about rebuilding surfacing. On Facebook, someone warns the city not to take "dirty FEMA money." Another post warns of your tax dollars going to help undocumented immigrants. It seems only certain people get to be #SonomaStrong.
I called my mom, to check in again. For two weeks she stayed at my brother's house 45 miles south, in a diverse, working-class town called American Canyon, whose logo is "The Gateway to Napa Valley." My brother, the first one in our family to own property, in a town that asks you to buy snacks at their Safeway before heading to Stag's Leap. He told me the American Canyon high school served as a refuge for undocumented evacuees, with signs in Spanish vowing not to check IDs.
As for Santa Rosa, my mom said, "You wouldn't recognize parts of the city. I didn't expect to be so … upset. So much is gone."
She told me at the deli she overheard a man saying he'd lost his home but now has $4,500 a month from insurance to rent a place. He said he was surprised — he'd found something for that price! To me, my mom said, "Can you imagine? That much for rent?"
She says it doesn't smell like smoke anymore, and that she threw away the face mask she'd had to wear last month. Today she went to her regular Monday mah-jongg game at the temple (the Friday group had been displaced because the place where they usually meet is still an evacuee shelter). She said everyone told their stories of evacuation and then they played for hours, just like they always do. I asked her if the city felt the same and she said sort of, if you don't go to the neighborhoods that are just no longer there.
I imagine in a while, with the right gaze, the city really will start to look the same, if a little scathed, the air thinner and rarer than before. As for my mom's friend, the one who had her door axed down by firefighters? She was lucky. Her house is safe, the fire doused a block away. But now she has a new problem. Her home is now nakedly open to the elements, the scorched neighborhood. And every time she reaches to close the door she has to remember. There is no more door.