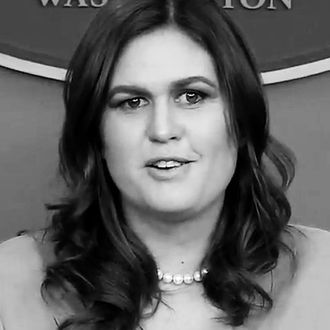 Sarah Huckabee Sanders.
Photo: Courtesy of The White House
Sarah Huckabee Sanders, apparently seeking a change of pace from the daily grind of shamelessly pushing the Trump administration's message, started off her press briefing a bit differently on Monday: In advance of the Thanksgiving holiday, she shared several things for which she is thankful. And then, like a preschool teacher who hates truth, she more or less made the White House press corps do the same. "If you want to ask a question," she said. "I think it's only fair since I've shared what I'm thankful for, that you start off with what you're thankful for."
The reporters complied, prefacing their questions by sharing their gratitude for such things as "the First Amendment" and "my wife."
At the end of the briefing, Sanders thanked them all for "participating in this very fun exercise," before presumably ushering them into another room to make their own construction-paper hand turkeys.