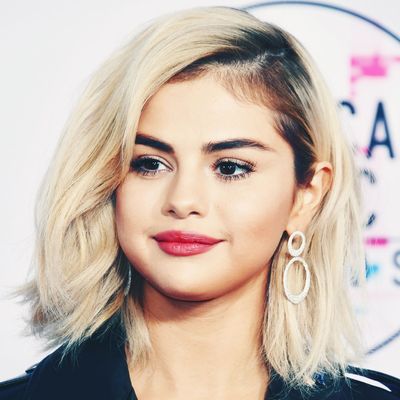 Selena Gomez.
Photo: Neilson Barnard/Getty Images
Sunday night's American Music Awards marked a big moment for Selena Gomez: Not only was she returning to the stage for the first time since her kidney transplant, but she was also debuting her new blonde locks. But instead of being celebrated for her triumph (of health and hair), the singer has found herself accused of lip-syncing during her performance of "Wolves."
People reports that viewers claim the 25-year-old hockey fan lip-synced during the awards show, since her vocals and mouth didn't always appear to match up. After her performance, Gomez was seen shrugging and unenthusiastically mouthing the words thank you while the audience applauded.
But folks immediately took to Twitter to call her out for allegedly not performing live:
Who knows what really happened, but at least Gomez has this guy to console her.