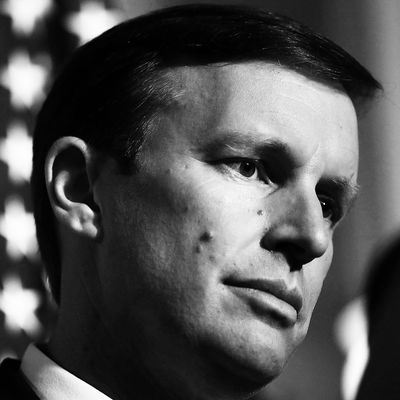 Senator Chris Murphy.
Photo: Win McNamee/Getty Images
After at least 26 people were killed and 20 were injured on Sunday during a mass shooting at a church in a small town outside of San Antonio, Texas, Democratic senator Chris Murphy issued a statement blasting his "cowardly" colleagues in Congress for doing "absolutely nothing" to prevent gun violence.
Around 11:20 a.m. on Sunday, 26-year-old Devin P. Kelly opened fire at First Baptist Church in Sutherland Springs, Texas, a town with a population of only 400. The attack quickly became the deadliest shooting at a place of worship in modern U.S. history, as well as the deadliest in modern Texas history. It came a little over a month after a shooting at a music festival in Las Vegas left 59 dead and more than 500 wounded.
"My heart sunk to the pit of my stomach, once again, when I heard of today's shooting in Texas," Murphy wrote in his statement. "My heart dropped further when I thought about the growing macabre club of families in Las Vegas and Orlando and Charleston and Newtown, who have to relive their own day of horror every time another mass killing occurs."
Murphy went on to call out Congress for its lack of action to protect Americans from gun violence: "As my colleagues go to sleep tonight, they need to think about whether the political support of the gun industry is worth the blood that flows endlessly onto the floors of American churches, elementary schools, movie theaters, and city streets."
He concluded that it's time for Congress to "sheds its cowardly cover" and do something about the epidemic of gun violence.