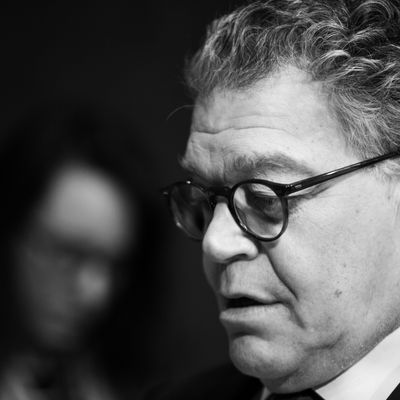 Senator Al Franken.
Photo: Tasos Katopodis/Getty Images
The U.S. Senate Ethics Committee has officially opened an investigation into Senator Al Franken following allegations of sexual misconduct, Reuters reports.
News of the probe comes as a sixth woman has now accused Franken of touching her without consent. The woman, who spoke anonymously to Jezebel, said Franken gave her a "wet, open mouthed kiss" after a radio interview in 2006.
Meanwhile, in the House, Minority Leader Nancy Pelosi has called on Representative John Conyers Jr. to resign following allegations that he mistreated women for more than two decades.
"Zero tolerance means consequences for everyone," Pelosi tweeted yesterday.
But Franken reiterated on Thursday that he will not resign. He has apologized for his behavior several times and welcomed the Ethics Committee investigation.
"I know I've got a lot of work to do to regain people's trust," Franken told the Washington Post. "But I remain committed to continuing to work as hard as I can for my constituents."