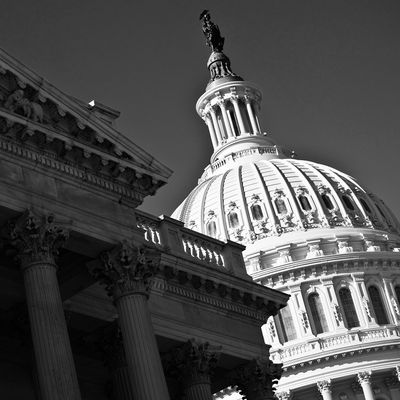 U.S. Capitol Building.
Photo: Nicholas Kamm/AFP/Getty Images
When former Democratic congresswoman and senator Barbara Boxer went in front of the House in the 1980s to present a bill — a relatively ordinary motion for a congresswoman to make — she said she was met with condescension and laughter, The Hill reports.
"One of my colleagues said after I spoke, 'I want to associate myself with the comments of the congresswoman from California,' which is exactly the right thing to say," she said on MSNBC this afternoon. "But then he went on and said, 'In fact, I want to associate with the congresswoman from California,' at which point the entire audience started laughing."
The committee chairman then decided he wanted to join in the fun, Boxer said. "I want to associate with her, too," she recalled him saying, causing her to turn bright red.
Boxer is just one of the women who has joined a concerted effort to expose the rampant sexual harassment and abuse on Capitol Hill, and while she believes her incident "doesn't compare to some of the dreadful stories that we're hearing," she was left feeling humiliated and disempowered.
"Luckily, I'm a strong person," she said.