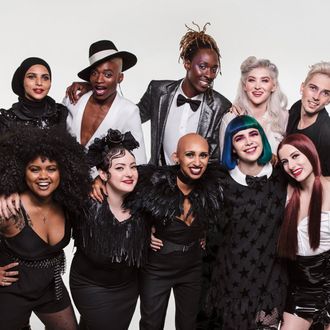 Sephora holiday.
Photo: Courtesy of Sephora
Every year Sephora unveils a glitzy holiday campaign with top models, but this year the company looked within. They reached out to 11,000 store clerks — or cast members, as Sephora prefers to call them — and ten highly photogenic employees landed a spot, after submitting a video about what beauty means to them.
The campaign — shot by celebrated photography team Inez and Vinoodh — is centered around the concept of "Reach Out and Gift," Racked writes, which the retailer hopes will energize customers into gifting an item touted by one of the campaign's compelling and beauty-loving models. There's the purple highlighter (Milk Makeup Holographic Highlighting Powder) worn by Terell Britten, a cast member from Sephora's Beverly Hills store; slick-as-latex liquid lipstick (Too Faced Melted Latex Liquified High Shine Lipstick), as seen on Joanna Samano, who works out of Oregon; or maybe the cat eye (Kat Von D Ink Liner) modeled by Chaimae Boulayad, a cast member from San Francisco, will inspire some shopping. Either way, consider tossing an item or two for yourself in your shopping cart, too.