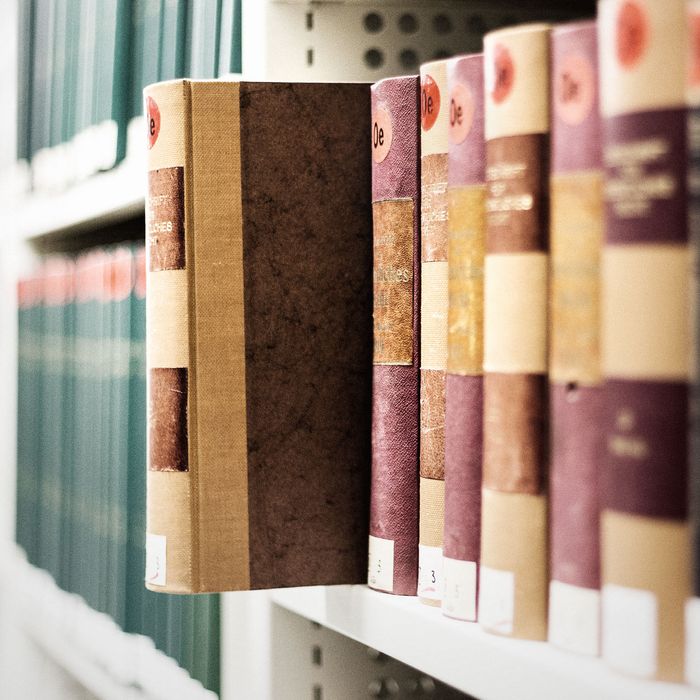 Get Sex Diaries delivered every week.
New York's Sex Diaries series asks anonymous city dwellers to record a week in their sex lives — with comic, tragic, often sexy, and always revealing results. This week, a 31-year-old library manager figuring out how fatherhood will factor into his dating life: 31, straight, single, Carroll Gardens.
Day One
8:30 a.m. I get up half-expecting to be in my old room again, but instead I'm in my new palace of an apartment in Carroll Gardens. I was one of a select few who won one of the city's most lucrative housing lotteries recently, so I moved out of a Brownsville NYCHA project and into a luxury one-bedroom. I feel blessed, but still stressed contemplating the full day I have ahead.
9:15 a.m. No time to masturbate. I run out of the house for an early-morning therapy session before my shift at the library.
10 a.m. I started therapy because I had a nervous breakdown when my ex-girlfriend got pregnant even though she knew I did not want kids until I was done with my master's degree (plus, neither of us had enough money to support a kid). I couldn't believe that she would lie about taking a morning-after pill.
She did give me the option to walk away. After a lot of soul-searching and therapy sessions I realized that I am not that guy. I can't just pretend I don't have a child somewhere. So now here I am working through my issues with my therapist and figuring out how to be a daddy to my infant daughter. My trust of the opposite sex is basically zero. I'm currently contemplating getting a vasectomy, which is unfortunate — I always wanted a big family.
Noon I work in a college library, which is sometimes difficult because I'm not much older than some of the hot female students. Flirtations happen despite my commitment to professionalism.
10 p.m. I go to a little dive bar. A pair of brunettes stumble in and sit next to me, a tall one with a great figure (Stacey), and a shorter, more boyish-looking one (Kat). Turns out they're on vacation for the weekend from Cali. After a while I say I'm going to bounce out to another bar and Stacey really wants to come with, so the three of us head out. I put my arm around Stacey as we stroll over the bridge that spans the Gowanus Canal.
1 a.m. Even though I don't really smoke, I ask Stacey to come with me for a cigarette. We're all over each other as soon as we get outside. Stacey tries to take me to a nearby doorway to give me a blow job. But I am with a less-than-sober white woman from Cali — my caramel-colored Puerto Rican complexion would pretty much guarantee me a five-year sentence if someone caught us and she decided to lie. I pick her up off her knees and we go back into the bar.
1:30 a.m. We're all in an Uber to who-knows-where. Stacey has her hand down my pants, rubbing my cock in the cab. Kat jumps out and storms off into the house where they're staying. Stacey and I walk the other way and start to make out heavily again. We decide to go back to my place.
1:50 a.m. The second we walk into my apartment the clothes are coming off. I ask her to tell me she really wants this. She seems a bit confused by my need for her consent (maybe she thought it was obvious?) — I tell her it's because she's a tipsy white girl and I am a random brown guy. She just laughs and slides off her panties.
2:20 a.m. After she comes, she pops up and takes my dick into her mouth. There is something so hot about hooking up with lighter-skinned women because of the contrast between their creamy-white skin and my tanned cock. I feel myself get really excited so I push her back onto my bed, flip her onto her stomach, throw on a condom, and start fucking her brains out.
We keep going for a while. I can feel myself about to come, so I kiss her hard and explode into her. A moment later I pull out and see the condom is destroyed.
3:37 a.m. I am freaking out. Stacey kisses me and says that it's okay because she's on birth control. Like I haven't heard that shit before!
4 a.m. I call a Lyft and wait in my lobby with her. The concierge smiles and nods at me, like he's congratulating me on a conquest.
Day Two
12:30 p.m. My sheets still smell like sex.
1:30 p.m. I text Stacey to let her know that I had fun and hope to see her again the next time she is New York. We both kinda know that is not going to happen, but I always feel a next-day text is a gentlemanly thing to do. I don't really expect her to respond — but she does and tells me that she had a lot of fun too.
7 p.m. I head to the city to see a movie.
8 p.m. I grab a seat on the G and quickly meet eyes with an Eastern European–looking brunette. But I like my women curvier and busty; I am what they call a "boob guy." This one is a bit too thin.
10:45 p.m. Home, food, bed, YAY!
Day Three
11 a.m. Breakfast and random YouTube videos.
3 p.m. I leave my house to visit my infant daughter at her grandmother's house. I'm trying to stay positive — I really do want to see my daughter. I love her, but I know it will be uncomfortable during the visit. My ex's family members hate me because I did not marry my ex — they're a traditional Mexican family and felt I was obligated to marry her when she got pregnant. I wish my daughter was old enough for me to spend time with her alone.
4 p.m. I arrive at the house. I bring some boxes of diapers and a couple hundred dollars for her. My child's mother is civil with me. I think she respects that I didn't just take off when she gave me the option. Her mother and brother, on the other hand, tolerate me like one would tolerate a blister on their foot. I just hold my daughter close and play with her to hear her cute little laugh, hoping to block out their negative energy and avoid a nasty confrontation.
6 p.m. My ex's father comes home. He shakes my hand immediately; he was the only one out of them all who showed me any kindness or respect. You would think he would come down on me the hardest, but he didn't. He was always welcoming to me and I am very grateful to him for that.
I change and feed my daughter a bottle and she starts to get sleepy. Then I rock her in her bassinet until she drifts off to sleep. I stay a while longer just staring at her, wishing I could do better for her and hoping that she'll be alright.
7 p.m. I head to my mother's house to visit with her and my sister for a little while.
7:40 p.m. When I arrive, the lobby door is busted like always and the odor of human piss and shit emanates from the unkempt stairwell of this NYCHA building. I guess I was lucky enough, in that we had relatively clean neighbors growing up. Our floor wasn't that bad.
7:45 p.m. I get to my mom's apartment, but just before I head inside, my eye catches the door of my former neighbor Karen. In an instant, my mind shifts back to the image of our doggy-style power fucking. She's a hot little Latina MILF with a warm pussy and a warmer smile. I'd hoped to run into her but no such luck.
10 p.m. After a decent visit with the family I am in a Lyft headed back home. I can't stop mentally reliving moments of hot sex with Karen during the trip.
11:15 p.m. I am in bed jerking my cock while dreaming about my former "girl-next-door."
Day Four
9:40 a.m. I am at my desk doing my library worker thing when I get a text from Bella. She's a friend from college — a married woman I had a steamy affair with. I don't know about her but on my end, it never fully ends with us, it only takes long pauses. Right now, she's pregnant, so it's not like this is a booty text. Although, pregnant or not, I'd fuck her right now if she was down for it. She is loud! With an amazing ass and a filthy vocabulary.
11:45 a.m. I text my downtime away with Bella and a few other friends. I have been to several colleges and public institutions both as a student and a worker and I have fucked in all of them during the middle of the day. Unfortunately, I have yet to fuck at my current job. Maybe it'll happen one day.
1:20 p.m. I head over to Barnes and Noble to browse their book collection when I see a hot Latina looking through some fiction books. She's very receptive to chatting; we gab for a little while about our lives and literary interests. I get her Instagram and tell her I'll hit her up with a direct message so we can go out and grab drinks this weekend. I don't mention my daughter because I feel it's a bit awkward to bring up before a first date. Besides, she'll see pics of her on my Instagram. It's not like I'm hiding anything, right?
6 p.m. Dinner. Gotta love egg rolls!
Day Five
12:40 p.m. I'm on my way back from lunch when I spy a tall model-like number walking up the street. She's thin, but has a lot of butt! I walk over and tell her I think she's so tall and so gorgeous that I just had to try to talk to her. She smiles and laughs but brushes me off quickly. This is how the game is for men — we fail constantly until we win.
6 p.m. Instead of going home, my co-workers and I head to a nearby place we like with great food and decent drinks. We throw back a few.
9 p.m. The Latina sends a message via Instagram, "So how is your baby?" I respond with, "she is great!" Then she stops messaging. I guess this is the kind of thing that single moms deal with all the time.
Day Six
7 a.m. I leave my apartment to head to work and find a curious note taped to my door. It reads "Hi Neighbor! This is the phone number of my friend Leah, she could use a cocktail!" — no apartment number listed.
7:40 a.m. Hmm … should I call? What if it's a mean prank? Why didn't they leave an apartment number? Are my new female neighbors really scoping me out?
6 p.m. I made some arroz con gandules and chicken cutlets. I wish my daughter was old enough to enjoy it with me.
10 p.m. I hit the gym pretty hard tonight. I am so blessed to have a building with its own gym.
Day Seven
11 a.m. Work is busier than usual. Lots of people want to argue about library fines.
Noon Sex is furthest thing from my mind until I get a text message from Planned Parenthood informing me that my vasectomy consultation is scheduled for tomorrow morning. I'd forgotten about it. Resentment wells up in me toward my ex. I love my baby girl so much, but I feel cheated. I had it all planned out: I'd finish my master's degree, get married, then start a family. Now I have to protect myself, which means never trusting either women or condoms with my fate again.
4:30 p.m. I really want to go to the bar tonight for thirsty Thursday specials.
10 p.m. Heading out to the bar.
12:15 a.m. The bar was a sausage fest. Oh well, at least maybe I can get some sleep tonight. No fucks, no flakes, just sleep.
Get Sex Diaries delivered every week.
Want to submit a sex diary? Email sexdiaries@nymag.com and tell us a little about yourself.