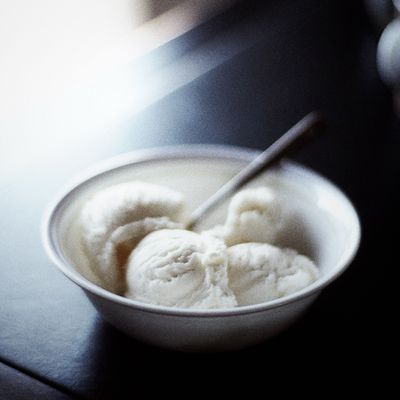 Get Sex Diaries delivered every week.
New York's Sex Diaries series asks anonymous city dwellers to record a week in their sex lives — with comic, tragic, often sexy, and always revealing results. This week, a Ph.D. candidate has something to tell her friend-with-benefits: 31, straight, single, Boston.
DAY ONE
7:10 a.m. I wake up very horny, unusually so. I'm also unusually wet for this hour — I'm able to masturbate quickly and easily.
12:30 p.m. At work. I'm doing a Ph.D. in Social Policy and I work at a nonprofit that provides out-of-school support at low-income schools across the country.
4:30 p.m. Still horny. A little strange but I have class soon so I'm distracted. During class I wonder if I can get Dubman to come over. It's a weekday.
Almost exactly three years ago, I made out with Dubman for the first time. We were at a Halloween party, and he said he worked at a nonprofit as well. I was Jigsaw and he was in blond pigtails and a white tie-up shirt. I won creepiest costume; he won sluttiest. He seemed like everything I like in a guy — easygoing, funny, generally well read, decent looking. He also seemed like everything I detest — privileged, aware of his laid-back-ness and wit. I didn't expect it to go anywhere.
But somehow over the past three years he's become my best friend. The sex has continued. My feelings for him have ebbed and flowed, then became stronger a few months ago. I have no idea why. He's never hid the fact that he has regular sex with three ex-girlfriends, two colleagues, and a neighbor.
10:15 p.m. STILL horny. Watch some porn to help me sleep.
DAY TWO
6:47 a.m. Wake up earlier than usual. My first thought is to text Dubman for a romp tonight. Make a mental note to move condoms and lube into the bedside table drawer from the bag stashed behind my shoe shelf. It was for when my parents visited over a month ago. My parents are Indian and like to believe I'm a 30-year-old virgin. And Dubman doesn't like wearing condoms so I have to remember to get one out each time.
11:05 a.m. Get a G-chat from Dubman; it's a Funny Onion article — "Man Unknowingly Buys Lifetime Supply of Condoms." It's a good sign. He's thinking about a romp.
3:30 p.m. He still hasn't asked me about my plans tonight. It's usually something casual like a movie or a Ken Burns show that will safely turn into a night of sex. I'm frustrated.
6:02 p.m. I send him a quick text from the bus asking what he's doing this evening. He replies he's on his way to an OKCupid date. It isn't the first time he's told me that, but it still makes me mad. I have no problem with the other women, most of the time — so why can't he be available when I need him?
8:15 p.m. I make an OKCupid account. It takes me a while to write a profile and choose pictures from Facebook. Finally get to view profiles. Too many sarcastic men looking for partners in crimes. I lose interest fast. I want Dubman.
9:47 p.m. I watch porn thinking about Dubman, constantly checking  my phone to see if he's contacted me to get together. He's done that before after a first or second date … he never sleeps with these dating-app-women until the third date.
DAY THREE
6:10 a.m. I'm up early again. I check my OKCupid and respond to a few guys. Many of them have the same question: "Where are you from 'originally?'"
8:17 a.m. I'm on the bus and suddenly feel a wave of nausea, but am able to compose myself.
9:01 a.m. I'm in the office still feeling a little sick. I wonder what it is. I eat the same food for every meal at almost the same times almost every day. I get teary watching a Facebook video for National Coming Out Day. I must be getting my period.
12:48 p.m. Actually, I don't think it's my period — I think I might be pregnant. I've never felt this nauseous. I think over this calmly and try to remember my last session of unprotected sex with Dubman. It was two weekends ago in a single tent in Acadia. Like some fuckin' Adam and Eve.
3:18 p.m. The pregnancy hormones — or just the thought — are making me feel crazy. I don't think I'm going to tell Dubman until I see him in person. I send him a text. No response.
6:35 p.m. Simmering with anger and determined to deal with this myself, I decide to give him a few hours.
7:53 p.m. Overcome by extreme exhaustion I suddenly can't move. I collapse on my bed and pass out.
DAY FOUR
6:12 a.m. I wake up after almost sleep. I decide to be responsible, get a pregnancy test, and talk to Dubman after work.
10:07 a.m. Work is crazy, and I'm cramping. Is it my period? No time to think about it.
2:15 p.m. A quick Google search for cramping without bleeding. Yup, implantation pain. I knew it.
4:55 p.m. Allow myself a quick daydream about Dubman and me with a brown-skinned, redheaded, Jewish baby. I'm brought back to reality with an email from my adviser.
6 p.m. G-chat from Dubman asking what I am doing tonight. I secretly giggle, relishing my secret power of pregnancy knowledge over him. He says he's hanging out with a co-worker who's staying with him this weekend. He confirms that they've recently hooked up. I stop texting him.
8 p.m. I get off the bus, walk home, get on my bike and ride to the closest Walgreens. My mind is a blur. I buy a pregnancy test and ride home. I pour myself some whiskey and go into the bathroom to pee. It's positive.
2:12 a.m. I'm awake all night. Torturing myself with thoughts of dealing with a lonely pregnancy or the guilt of an abortion. While Dubman's fucking some girl he barely knows.
4 a.m. I text Dubman "I need to see you today as soon as possible."
DAY FIVE
10:08 a.m. Dubman says he's busy all day but available on the phone. I do the second pregnancy test and scream into my pillow.
11:25 a.m. I call my best friend in D.C. She's in Mexico for a wedding and drinking a mezcal cocktail with breakfast. I tell her I'm pregnant. She's livid. She's walking on a street in Guanajuato yelling at me to call Dubman. I tell her I need to think and hang up.
12:52 p.m. Multiple texts from my friend urging me not to let Dubman get away with this. She says he needs to be there and he needs to pay for at least half of everything — whatever I choose to do. Dubman isn't like that, of course he would be there and would want to pay. He's just occupied with his co-worker. My friend emphasizes making him acknowledge emotional and financial responsibility.
2:50 p.m. Lose all my bravado and pride and text Dubman — "I'm pregnant." He says he'll be right over and is there in five minutes. I'm not prepared to see him so soon.
3:03 p.m. I'm not prepared for his reaction: He feels strongly that I should get an abortion. He says he's never developed romantic feelings for me and has never seen a future with me. I'm in shock, but shouldn't be. I tell him there's nothing to talk about and that I feel fine.
3:41 p.m. He leaves and I research abortion. I reserve the earliest appointment for the next evening.
6:45 p.m. I'm bored and lonely but don't feel like seeing any of my friends. I get back on OKCupid. There's too much to read. I make a Tinder account.
9:05 p.m. I don't know what I want. I know I don't want Dubman snuggling with this co-worker. I call him and tell him I need him to spend the night with me. He says there's no way he can do that. I cry. He agrees to come over.
11:15 p.m. He arrives looking stressed and saying he had to tell his co-worker and she was very upset. He makes it clear he doesn't want to be here. We sleep as far from each other as we can.
DAY SIX
7:33 a.m. I hardly sleep all night. When Dubman wakes up I tell him I have an abortion appointment. He agrees to come but bargains with me to get out of spending the night with me. He says he can stay over after his co-worker leaves.
An at-home abortion consists of consuming one set of pills with a doctor at the clinic and a second set at home the following day. The clinic asks that you bring someone to accompany you home since there is nausea, pain, and emotions involved.
3:15 p.m. I get ready to leave work. I've told my closest co-worker why. He says it isn't a big deal and a lot of his friends have been through it.
3:55 p.m. We are both early at Planned Parenthood. There are some old men holding posters of fetuses, chanting at passersby not to kill babies. I'm told that insurance won't cover the procedure. Dubman offers to pay half. In the next two hours I go through an ultrasound, two blood tests, two information sessions, then am finally given a pill to start "passing the pregnancy." Everyone at the clinic has been kind and supportive.
6:30 p.m. We are finally on our way home. I feel fine, no nausea, no emotions.
7:05 p.m. Dubman claims to have a lot of work and leaves. Doesn't mention the co-worker sharing his bed. I need a distraction and end up on Tinder. I swipe right often and immediately matched with someone.
8:15 p.m. An hour of outright flirting later I give him my address. While he is en route I quickly look up the rules on sex during a medical abortion. There isn't much information. I shower to get the ultrasound gel off me and change into a different dress.
8:50 p.m. He's cute, with a disheveled beard, and he brings a box of home-brewed IPA. I wish we'd met under different circumstances. I pour him a scotch, while I pretend to be drinking a whiskey-ginger that's really all ginger.
9:32 p.m. We waste no time and once in bed I realize I needn't have been worried about the first pill that stops estrogen production — I was wet and ready. He's the first new guy I've been with in over three years but I make him do all the things I do with Dubman. All with a condom, of course.
11:40 p.m. He leaves and I fall asleep easily for the first time in days.
4:05 a.m. My body finally reacts to the first pill and I barely make it to the toilet to throw up. My head is woozy. I have a text from Dubman asking how I'm feeling and saying he can come over after work. The second pill is to be kept under my tongue till it dissolves. It's supposed to start contractions immediately and there is severe cramping to be expected for up to eight hours. The pain is likened to labor pains.
DAY SEVEN
7:00 a.m. I go on a bike ride to distract myself. I stop at a greenhouse and buy a cactus with two yellow blossoms. I tell myself I'm not an emotional person. I know, however, more than ever that I am looking to be in a stable relationship.
9:52 a.m. I buy groceries. The doctor told me to buy everything I might need for a few days. She suggested stocking up on a lot of comfort food. I leave with a double chocolate ice cream, spicy Indian banana chips, a jar of Nutella, and some frozen burritos.
2:09 p.m. I've spoken to my closest friends, made a list of movies to watch, and read blogs and reviews of misoprostol, the abortion pill, by women who have been through the process.
3:37 p.m. Dubman is on his way. I take a shower and brush my teeth.
4:30 p.m. Dubman pours himself a scotch and I roll myself a cigarette and we sit in my backyard. No one passing by could ever imagine our circumstance.
5:11 p.m. I take the pill and start cramping. We watch a funny American movie. Dubman's been introducing me to American classics since we met. There are so many. I get nauseous, throw up, and pass out.
8:14 p.m. I wake up alone in the dark. I recall Dubman waking me up to give me a painkiller and a hot water bottle. He's texted me saying he left because I was snoring and he didn't think there was anything else for him to do.
9 p.m. I'm cramping severely. I get a notification from Tinder — I have more than 100 matches. It might not seem like it at the moment, but I know I'm going to be all right.
Get Sex Diaries delivered every week.
Want to submit a sex diary? Email sexdiaries@nymag.com and tell us a little about yourself.