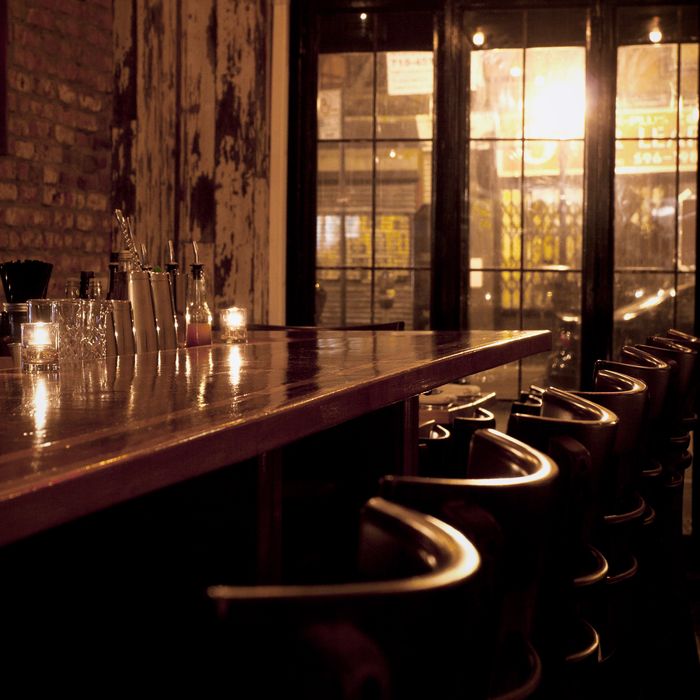 Get Sex Diaries delivered every week.
New York's Sex Diaries series asks anonymous city dwellers to record a week in their sex lives — with comic, tragic, often sexy, and always revealing results. This week, a woman who works in museum communications and says she got married too young: 27, female, bisexual, Harlem.

Day One

8:56 a.m. I bring my coffee and laptop up to the main hall of the museum where I work. I love this place early, before it's full of visitors. Something about the marble and skylights and artifacts is pure magic.
9:14 a.m. One of the best and worst things about sitting here is that everyone walks past me as they come into work. Today, that includes Ben, who used to be one of my closest friends until I told him I had feelings for him and had to take a step back.
It changed everything (what did I expect, really?). We used to do things like finish the dregs of a bottle of whiskey while we talked about life for three hours, but now we barely make small talk. He proposed to his girlfriend a few months ago, and I backed off even more. I'm glad he's happy. Even when it feels like a knife to the heart.
7:25 p.m. Dinner with my mom. We've gotten closer lately, but I still can't talk about my love life with her. The first thing she asked me when my marriage ended three years ago was, "What did you do wrong?" No matter how much she's made an effort lately, it's hard to get over that. I'm an only child, and sometimes I think she expected a built-in best friend. We moved around a lot, and I never really got to be a kid.
9:03 p.m. Text from this guy I've just started seeing. His name is also Ben, so I've taken to calling him New Ben. Will be mortified if Old Ben ever learns this. New Ben is confirming our date tomorrow. We saw each other a few days ago at a group outing and he kissed me at the end of the night. It was one of those sloppy kisses with too much tongue; he was full of whiskey bravado.
Day Two
7:30 a.m. Skip coffee at my usual spot, and get it in the museum café instead. That was a mistake.
12:30 p.m. A few days till payday, so I eat a peanut butter sandwich for lunch. Nonprofit pay is the worst.
3:35 p.m. Meet with Old Ben for a work thing. Catch up a bit. It's nice; I've missed this. We connect well creatively, and I always walk away from our conversations inspired.
6:35 p.m. Finished with work, so I take the long way to the Indian restaurant where I'm meeting New Ben for dinner. I'm trying to psych myself up for this date.
7:29 p.m. This place is new. I used to live in this part of Bed-Stuy, and there was nothing but houses on this block. New Ben is already sitting on a bar stool, rolling and unrolling the sleeves of his shirt.
8 p.m. It takes half an hour to get our table. I'm nursing my glass of wine, because I didn't eat much for lunch. The conversation is coming easily today; he asks more questions and there's not so much of the swagger that bothered me the last few times we saw each other.
9:17 p.m. He asks me what my bedtime is. It's a work night, but he has all the time in the world since he just finished his grad program. I tell him 11 p.m. is it for me.
9:45 p.m. We move to one of those cocktail bars that's dark and decorated with old phonographs and taxidermy.
10:30 p.m. This is really nice. I forgot how much I love the getting-to-know you part of things. We're sitting close to each other, bar stools turned in. Our legs are touching. He smells woodsy, like pine trees.
11:17 p.m. I'm turning into a pumpkin. He walks me to the train, then draws me close, his arm on the small of my back, kisses me, and tells me he wants to go out again. I'm giddy the whole train ride home.

Day Three
8:02 a.m. Working from the museum café again. One of the VPs is sitting one table over. He starts talking about Harvey Weinstein and all the sexual-harassment news. He tells me a story about dildos. He stops mid-sentence as my boss walks up to us.
10:35 a.m. Lately, I've been really proud of my job. I've been here for three years and the time has flown by. This job was one of the ways I coped with the divorce. We got married really young, and our whole lives were intertwined. I was devastated when he came back from a three-week trip and told me we needed to talk. Ending our relationship meant starting over completely. Now, I'm so grateful he ended things.
He was my best friend, and we had a wonderful ten years together. I'm glad I had someone kind and respectful to learn the ins-and-outs of sex with, but now it's nice exploring what (and who) I like outside of that relationship.
7:32 p.m. Working late. I do wish I had the mental energy to take on more personal projects.
7:55 p.m. On my way home, I impulsively stop off to say hi to Beatrix. We have a mutual love of Patti Smith, Crazy Ex-Girlfriend, and Joni Mitchell. I'm not sure who we are to each other. She once called us platonic soul mates, but she also once spilled a beer on me and admitted she was nervous in the same way she was when she met her partner. Who, by the way, she just moved in with. So maybe it doesn't matter that I get nervous around her, too.
I've only really dated one woman, but I'd like to explore that side of myself more. Beatrix and I came close to crossing that line once, I think, but as soon as we started to tell each other the dark, scary stuff, I ran away. Literally. My bus was coming, but still. I have a hard time reading women. It's so much easier with men.
8:25 p.m. Beatrix wraps a blue curl around her finger as we say good-bye, and it drives me wild.
8:32 p.m. New Ben texts. We're going out again Saturday. He suggests dancing, and I cringe. I don't mind dancing when the mood strikes me, but I'm not the clubbing type. I suggest a Cuban place instead.
Day Four

4:45 p.m. The entire office is empty. My officemates are at a conference, so I'm all alone. It's a little creepy.
7:45 p.m. Dinner with a friend at one of those unabashedly white taco places with a name like "Spanglish." They're blaring "Despacito." Of course.
9:32 p.m. We get another round of margaritas. It's cold outside, and warm in here.
10:15 p.m. I'm a little too drunk for a Thursday. These margaritas are more like tequila on ice with some lime.
Day Five
8:06 a.m. I can tell it's going to be one of those days where my brain is molasses.
1:15 p.m. On the plus side, my boss is right there with me. We're cracking up in her office, and I can't even remember what we're laughing about anymore.
5:17 p.m. Grab beers with everyone at our weekly happy hour. It's a fun group tonight, and my boss is a little buzzed. It's kind of adorable.
6:24 p.m. There's a videographer from Montana is here tonight. He's got great curly brown hair and maybe the coolest job ever. I once jokingly told a friend my type is "hiker with a heart of gold." This guy fits that description to a T.
7:10 p.m. A smaller group of us decide to get some food, including the hot videographer (Alex).
7:17 p.m. He mentions his girlfriend. Dammit, dammit, dammit.
7:41 p.m. We get to the bar, one of my favorite dive-y spots. It's packed so we split up — Lea and Chris scope out seats at a place down the street while Alex and I hover conspicuously over groups that look ready to leave.
8:25 p.m. A few more friends show up, and Alex and I manage to snag a booth. We slide in together. Everyone else seems to doubt that we'll all fit. "We can squeeze," he insists.
10:15 p.m. Lots of greasy bar food and beer, and conversation about national parks and Ray Bradbury and film projects. Is this heaven? Alex scoots closer and plucks a tater tot off my plate.
10:30 p.m. We leave early, because Alex got in at 4 a.m. and one of our other friends isn't feeling great. We say good-bye. Alex is flying out tomorrow, but we promise to send each other links to all the things we've talked about. "Who knows, maybe my flight will be delayed," he says as we hug good-bye.
Day Six
10 a.m. I sleep in. It feels great.
10:45 a.m. I go to a coffee shop. Wonder about the status of Alex's flight.
12:25 p.m. New Ben is texting me a lot. He asks how my day is going, and tells me he's looking forward to tonight. I have five texts from him when I check my phone. I feel a little suffocated.
7:55 p.m. He texts me as I'm walking to the restaurant: "look at the moon right now."
8:15 p.m. Oof, conversation is not flowing today. I drink my wine faster.
9:45 p.m. We decide to walk to another bar. He grabs my hand on the way over.
10:01 p.m. I take the shot he offers me. I know I shouldn't, but I'm feeling a little sad. All the people I really connect with are already in relationships.
11:05pm: He invites me back to his place. I say yes.
11:10 p.m. He buys a bottle of whiskey and I pay for our Lyft ride back.
11:15 p.m. He's talking about his ex a lot. I try to tell him about being married, about how weird it's been to try the dating thing after being with someone for ten years. He's not really listening.
11:45 p.m. We're listening to My Morning Jacket and making out. God, I'm horny. And sad. Sad horny.
11:55 p.m. Fuck it, I want to get laid tonight. I take off his pants, and he unbuttons my dress.
12:05 a.m. I missed the feeling of hands all over my body, of a solid body on top of me, of warm sweat and breath.
12:10 a.m. Realizing it feels so good because he's not wearing a condom. I'm not on the pill. I should stop him, but I don't.
12:15 a.m. He starts telling me how much he really, really has feelings for me. "How am I doing?" he asks. "It's been awhile, but I think this is something really real." He says all of this WHILE HE'S STILL INSIDE ME.
12:17 a.m. Fake an orgasm because no way that's happening now.
12:20 a.m. He falls asleep. How rude would it be of me to leave?
Day Seven
6:35 a.m. I wake up and just want to be in my own bed. My head is pounding. Thank God I told him I was going to yoga with my best friend this morning. He walks me to the door and we kiss good-bye.
9:45 a.m. Ask Katie if we can skip the yoga and get diner breakfast instead. She agrees.
10:30 a.m. I deconstruct the whole night for her over shrimp and grits. Katie's dying cringe-laughing. I think she feels a little bad for New Ben, too, but agrees that I need to end it.
3:32 p.m. Wake up to a bunch of texts from New Ben. Going to have to let him down soon.
3:40 p.m. Masturbate. Need to have an orgasm somehow. I think about Alex back in Montana and imagine I'm there, too. Mmm, cabin sex.
5:47 p.m. There's an adventure-themed film fest at a nearby theater, and I have plans to go with some friends. Drag myself out of bed and into the cold to meet them.
6:03 p.m. Send a text to New Ben while we wait for the first movie to start: "Hey, I had a lot of fun getting to know you, but I think I need some time to figure things out for myself. Best of luck with everything." Oof. At least it's done.
7:35 p.m. At intermission, a hot guy with a shaved head catches my eye. He walks over to our group: "Sorry, I thought I knew you. That's why the double-take."
7:50 p.m. Back in the theater, wishing I had been quick enough on my feet to say something cute and witty. All of these close calls and maybes and almosts are getting old. I vow to go after what I want from now on. Preferably with someone not in a relationship, though.
Get Sex Diaries delivered every week.
Want to submit a sex diary? Email sexdiaries@nymag.com and tell us a little about yourself.