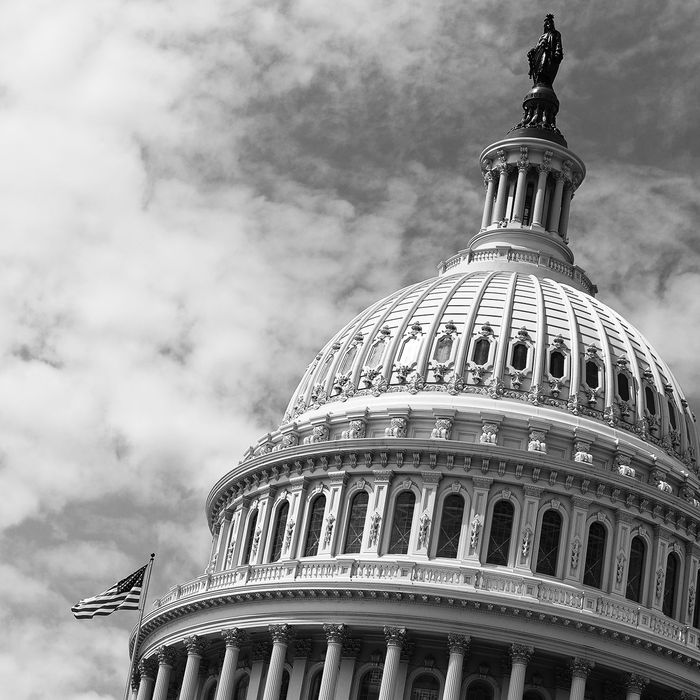 Photo: MANDEL NGAN/AFP/Getty Images
At 10 a.m. on Tuesday morning, members of the Committee on House Administration will hold a hearing into sexual harassment on Capitol Hill, and the New York Times has given the committee a head start on hearing testimony.
The Times spoke with more than 50 lawyers, lobbyists, and former aides who said that sexual harassment has become something of an "occupational hazard" for working in Washington politics.
Approximately 1,500 Capitol Hill staffers have already signed an open letter calling for mandatory sexual-harassment training for congressional employees and an overhaul of the Office of Compliance. (The Senate put mandatory sexual-harassment training in place for the first time in history last week.)
"The Congress of the United States should be the one work environment where people are treated with respect, where there isn't a hostile work environment," Representative Jackie Speier, told the Times. "And frankly, it's just the opposite. It's probably among the worst."
Here are four testimonies included in the piece:
Katherine Cichy, former aide to then–Senator Tim Johnson, Democrat of South Dakota
In 2013, Cichy, a former aide to retired Senator Tim Johnson, was in Union Station with colleagues when her direct supervisor repeatedly called her "hot." Cichy says she told the senator's chief of staff at the time, and he responded, "It is what it is." Cichy moved to another office and her boss stayed in his job.
Rebecca Weir, former aide to then–Representative Gary Miller, Republican of California
Weir says that in 2001 her former boss, Representative Gary Miller, asked her to "twirl" for him in his office. According to Weir, he told her she "looked stunning." She told the Times, "He was kind of leering at me, and then he asked me to twirl … I was stunned, but I was young and dumb and here's a member of Congress that I'm working for asking me to twirl in his office. So I did." Soon after, he sent her a $1,250 bonus.
Laura W. Murphy, former head of the American Civil Liberties Union's Washington legislative office
Murphy told the Times she experienced a number of "sexually suggestive episodes" during her 40 years working in Washington: "In the 1980s, a House member, whose name she would not share, tried to kiss her in the produce aisle at a Capitol Hill grocery store. In the early 2000s, she said a lawmaker asked her for a working dinner, then propositioned her for sex."
Hannah Hudson, former aide to Democratic congressman from Oklahoma
In 2009, Hannah Hudson says she was at a work outing when a senior aide for a Republican senator tried to pull open her wrap dress. The senior aide reportedly said: "Why are you holding out on us?" Hudson told the Times she, "Tried to brush it off because she felt that what had happened to her was not as bad as what had happened to others."
Sources