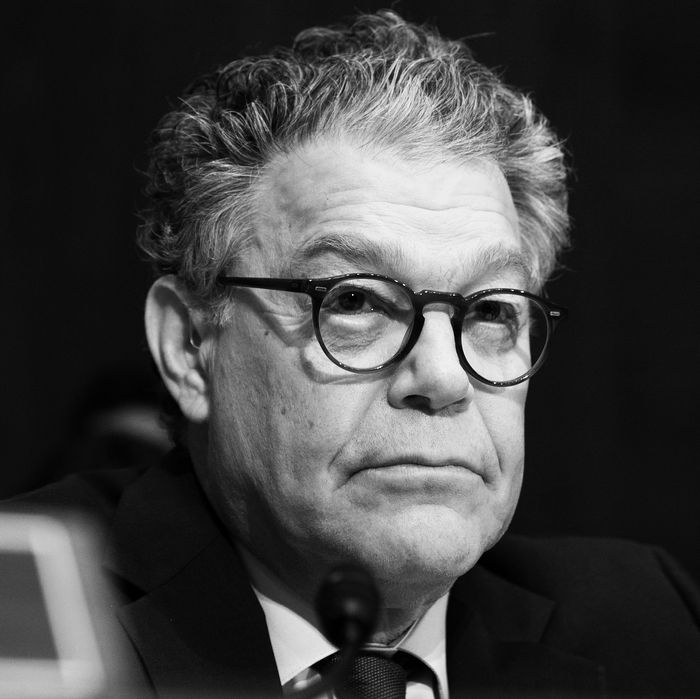 Al Franken.
Photo: Tasos Katopodis/Getty Images
In the two weeks since radio host Leeann Tweeden first accused Minnesota senator Al Franken of kissing and groping her without her consent during a USO trip in 2006, five other women have come forward with allegations of sexual misconduct against Franken. The latest, a former elected official from New England who spoke anonymously, told Jezebel that following an onstage radio interview in 2006, Franken tried to give her a "wet, open-mouthed kiss."
The woman said she was working on her town's select board when Franken invited her to be a guest on a live taping of his radio show for the station Air America. After the interview, and while they were still onstage, the woman said she went to went to shake Franken's hand and he "took it and leaned toward me with his mouth open. I turned my head away from him and he landed a wet, open-mouthed kiss awkwardly on my cheek." Via Jezebel:
The woman says she was in disbelief. "I was stunned and incredulous. I felt demeaned. I felt put in my place." She says, too, that although they were in an extremely public place, no one noticed: "It was onstage in front of a full theater … It was insidious. It was in plain sight and yet nobody saw it." She adds, referring to the women who say Franken groped them during photo ops: "The other women's accounts of him grabbing their buttocks in front of their mothers and husbands, I believe them."
Franken announced his run for Senate less than a year later.
Jezebel's story was published shortly after a fifth woman, Army veteran Stephanie Kemplin, accused Franken of groping her during a photo op on a USO tour in Kuwait in 2003. Franken has apologized for his behavior, but has said he will not step down from his senate seat.
"My intent in coming forward is not to negate the good work he's done or smear his name," the former elected official said. "I want him to take personal responsibility for his actions, learn from this, not repeat the behavior, and go forward with respect in all his interactions with women."
Read the full story here.