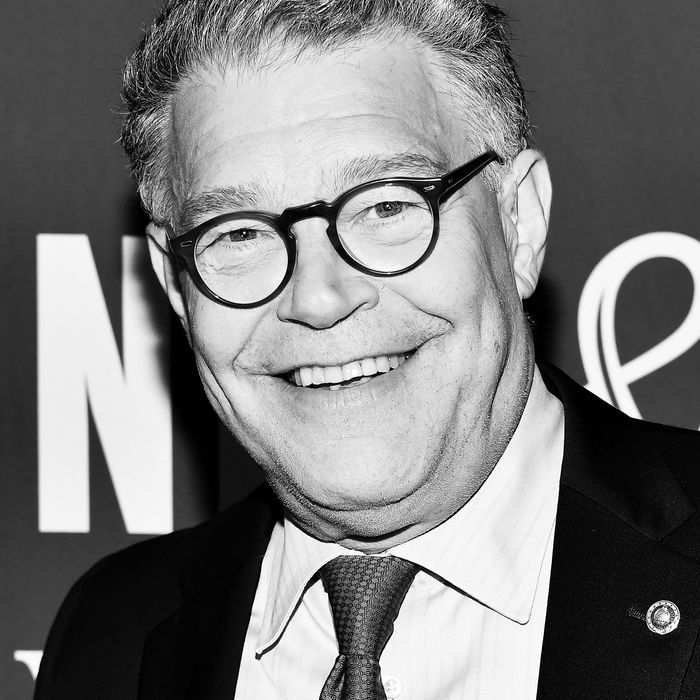 Senator Al Franken.
Photo: Dia Dipasupil/Getty Images
Less than a week after two women came forward to accuse Senator Al Franken of sexual harassment, the women staffers of Saturday Night Live signed a letter in support of the former-cast-member-turned-politician.
Signed by 36 former SNL production assistants, writers, and other female staffers, the letter begins, "We feel compelled to stand up for Al Franken, whom we have all had the pleasure of working with over the years." It goes on to say that what Franken did was "stupid and foolish" and that "it was appropriate for him to apologize." However, the letter continues:
In our experience, we know Al as a devoted and dedicated family man, a wonderful comedic partner, and an honorable public servant. This is why we are moved to quickly and directly affirm that after years of working with him, we would like to acknowledge that not one of us ever experienced any inappropriate behavior; and mention our sincere appreciation that he treated each of us with the utmost respect and regard.
Last week, journalist Leeann Tweeden accused Franken of groping and kissing her without consent during a 2006 USO trip to the Middle East. She went on Good Morning America the following day to explain that her intention wasn't to drive Franken out of office, although she also detailed the repeated harassment she endured during the two-week trip. And on Monday, Lindsay Menz of Texas came forward to allege she also had an "uncomfortable" encounter with Franken at a state fair in 2010, when he apparently grabbed her behind while taking a picture with her.
The SNL women's letter has already received backlash on Twitter, with many people pointing out that the fact Franken didn't sexually harass those women doesn't mean he didn't sexually harass others (especially when, in the instance of Tweeden, there's an actual picture of him inappropriately touching her chest as she slept). Others have also compared the letter to Lena Dunham and Jenni Konner's recent statement in defense of Girls writer Murray Miller, who was accused of rape.