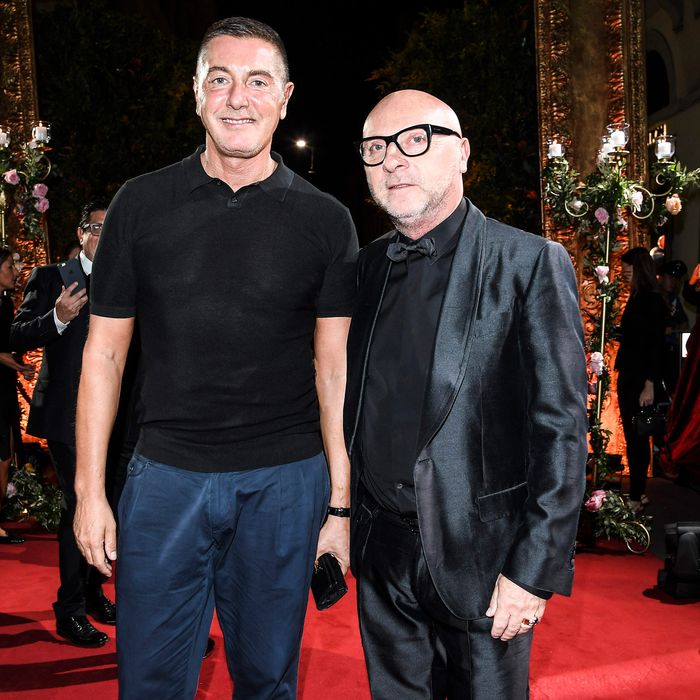 Stefano Gabbana and Domenico Dolce.
Photo: Daniele Venturelli/Getty Images for Dolce&Gabbana
Designers Stefano Gabbana and Domenico Dolce of Dolce & Gabbana have made it very clear over the past few months that "political correctness" is not something they personally value — mostly because they're Italian. In a new interview with Vogue UK, they declare this outright before Gabbana offers more unpopular opinions about sexual harassment.
"For me, political correctness is fake, because you don't have the power to explain what you really think," says Gabbana, who is admittedly the more outspoken of the duo.
In the past, Gabbana seems to have said exactly what he was thinking about knockoffs, other designers, politics, parenting, and beauty standards. Now, he's provided his two cents on sexual harassment.
"It's not new!" Gabbana said on the subject. "Luchino Visconti asked Helmut Berger and Alain Delon to go in the bed … But listen, you decide. It's true. Everybody knows. After 20 years you say, 'Ah! He touched my ass!' It's not violence, this."
Gabbana then goes on to conclude: "Who doesn't do sex? Who doesn't? It's a trend. Now the trend is sex. But sex is an old story. We are Italian. We came from the Roman Empire. We know very well."
Thank you, Roman Empire, for giving us Roman Numerals, aqueducts, and apparently, sexual harassment, too.