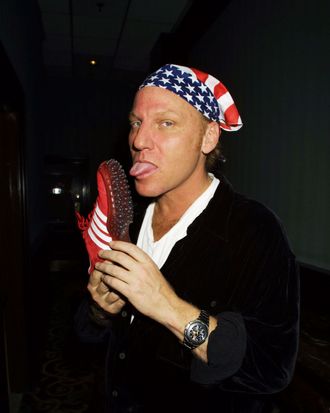 Steve Madden circa 2001.
Photo: Sylvain Gaboury/FilmMagic
"Who the fuck is Steve Madden?"
Shoe designer Steve Madden himself poses this question with a raspy, Queens accent in the opening scene of Maddman: The Steve Madden Story, a new documentary directed by Ben Patterson. Madden stands, arms crossed, in his usual getup of jeans, a tight henley shirt, boots, and a baseball cap. He looks like Bruce Willis, if Bruce Willis were a billion-dollar business owner, former convict, recovering addict, and father of three who's been designing trendy shoes for the past 27 years.
At the age of 60, Madden is questioning his legacy. He knows you recognize the name printed on shoe boxes across 65 different countries, but do you know the man behind them? Could you conjure an image of him in your head? Is he even a real person? Maddman, which premieres December 1 on iTunes, provides some answers.
Without seeing Maddman, you may recall bits of the Steve Madden story from The Wolf of Wall Street, which is ultimately what inspired Madden to tell his own side of things. Madden plays an integral role in the 2013 Martin Scorsese–Leonardo DiCaprio film because that's how it went down in real life — although Madden says his likeness was a little too "dorky."
In the '90s, just a few years after Steve Madden, Ltd., was born out of the trunk of a car with a $1,10o initial investment, Madden's childhood friend, Danny Porush (Jonah Hill in the movie), approached him with a radical business idea. (In the film, Hill, high on Quaaludes, slurs "Steeeeeeeeve Maaaaadden!" as DiCaprio pinches his cheeks.) Porush and Belfort would put Steve Madden, which at the time had only one store, up for public offering — a strategy that would become known as "pumping and dumping." Madden took the bait.
"I want you to ram Steve Madden stock down your clients' throats till they fucking choke on it," DiCaprio tells a room of hungry Stratton Oakmont stock brokers in The Wolf of Wall Street, raising his fists. In real life, they made $22 million in three hours.
At the time, no one thought that Steve Madden's IPO would bring Stratton Oakmont's illegal dealings to the attention of the FBI. Madden also didn't know that Belfort and Porush secretly owned 85 percent of his company. In 2001, he told New York, "I'm innocent!" Regardless of what transpired, Madden had one goal: Sell shoes. And that's what he did. Sure, it cost him 31 months in federal prison for stock manipulation, money, and securities fraud, plus a $9 million settlement. But this was not the end to Steve Madden's story, nor did it define it.
Madden was released from prison in 2005. By 2006, he'd increased his company's sales by nearly $100 million, and more than doubled its net income. He also got married and hired his prison buddy Verne Kneeley, who now heads the operations division for Madden's South Florida stores. Though Madden himself was no longer the company's CEO, he was still design chief. He possessed an unfaltering eye for what customers want, as well as the ability to get shoes on their feet before anyone else.
"Steve Madden was the first person to democratize on-trend shoes," says former Sassy magazine fashion editor Andrea Lee Linett in Maddman. "He's the grandfather of this whole movement."
In the early days, much to the chagrin of fashion's elite, Madden got his start taking styles he saw on the New York Fashion Week runways and reinterpreting them in functional, fun, and affordable ways. His first hits were the mule clog and the Mary Jane, which resonated with teenagers specifically. As a New York tween myself, I remember lusting after his chunky platform slide sandals, which were nostalgically brought back into rotation this year. The way they thwacked against women's feet was my version of fashion ASMR.
Today, Madden has superstars like Cardi B singing his praises for making trendy shoes that don't "break the bank," as she captioned a recent Instagram featuring thigh-high red boots similar to Fendi. (When asked if she was collaborating with Steve Madden in an official capacity, however, the brand declined to comment.)
One could complain that Madden's shoes are knockoffs, not to mention fast fashion, but Madden might argue that he's vindicated for being one of the first and most successful to do either. Because his company has a factory on Long Island, he's able to react to trends immediately, produce samples, and place them in stores the same day to see if they sell or not. According to the documentary, the brand's rule of thumb is that if eight out of twelve pairs are purchased in downtown Soho on a Saturday, they've got themselves a "winner."
On a recent Saturday afternoon, Madden tells me he took a visit down to Soho the day prior. "Dean & Deluca is still there," he says with a sigh when asked what's changed, implying that just about everything else has. He then goes off on a tangent (as he tends to do) about Jerry's, a café he used to visit every day that's now closed. "Retail is different. You need to give 'em a reason to go there," Madden continued. "One must constantly bring in products and make it exciting."
While other New York storefronts are shuttering, Steve Madden is currently valued at $2 billion, according to the documentary, with 250 stores worldwide. There are now 13 brands under the Steve Madden, Ltd. umbrella, including Betsey Johnson. In addition to keeping a steady stream of affordable, trendy shoes in stores, what Maddman reveals is that regardless of whether or not customers recognize Steve Madden the person, he is the soul of the company. Because of this, we've known him all along.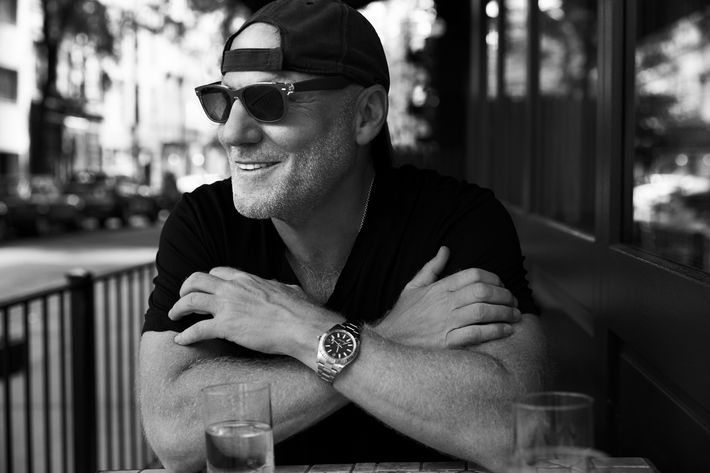 Madden says he wanted to tell his story simply because he thought it was a good one. Director Ben Patterson sees things more objectively. "As a viewer, the journey of his life is the journey of us all, even though he has this billion-dollar company," he said. "It's a story of American ambition and building a business."
It's true: We buy Steve Madden shoes for the same reason he sells them. Success is an intoxicating feeling — Madden himself compares it to drugs — and in fashion, success often means having the next new thing, or at least a close approximation. There's also something uniquely New York to Steve Madden's story. It's about moving forward at all costs; about not being the prettiest or the most refined, but coming out on top in the end.
"It's all there," says Madden of whether or not he held anything back in the film. "When you look back you're like, Whoa, how did I do that? You just keep showing up, I guess. But it's ugly to watch."