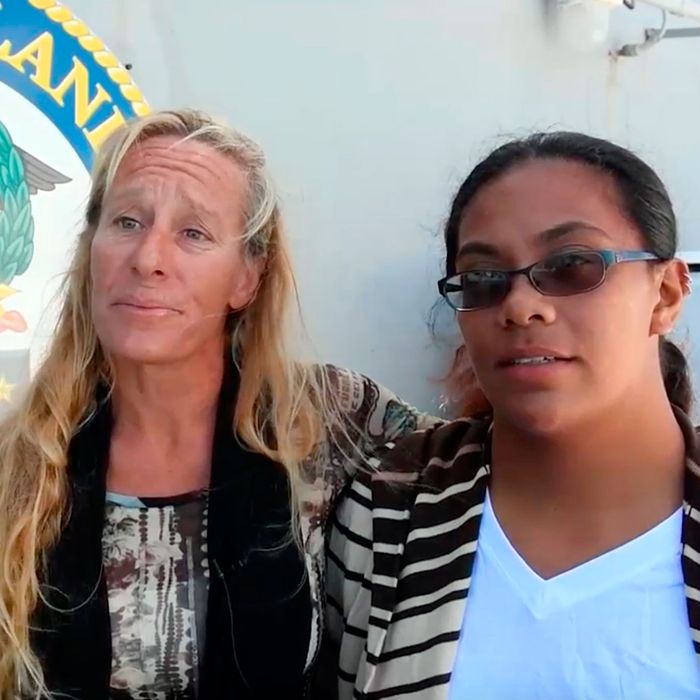 Jennifer Appel and Tasha Fuiava.
Photo: Mass Communication Specialist 3r/AP
After two American women were rescued following a five-month period of being lost at sea, the pair claimed the Taiwanese fishing vessel that initially spotted them was actually trying to kill them. On Tuesday, Focus Taiwan reports, the Taiwanese Ministry of Foreign Affairs (MOFA) called those accusations "groundless."
Jennifer Appel, Tasha Fuiava, and two dogs first departed Hawaii with the intention of sailing to Tahiti in early May. In late October, the Taiwanese fishing vessel saw their sailboat 900 miles off the coast of Japan and called for help.
Upon being rescued by the U.S. Navy, the pair told of being waylaid by intense storms, among other misfortunes. Shortly afterwards, several inconsistencies in their story were pointed out — for instance, there was no record of one of the major storms they described. They also had an Emergency Position Indicating Radio Beacon but never activated it, which could have gotten them help immediately.
Last week, Appel and Fuiava went on the Today show to defend their story. But then they contacted NBC News saying they were "never lost at sea" and presented another new, strange claim: the Taiwanese boat had rammed into them in an attempt to kill them. "While the media portrayed a rescue with the Taiwanese fishing vessel, they were actually the reason why we called for help," Appel said. "The Taiwanese fishing vessel was not planning to rescue us. They tried to kill us during the night." She also said that she managed to sneak on the boat and send out the rescue call herself.
Andrew Lee, the Taiwanese MOFA spokesperson said the allegation of attempted murder "deviates from the truth." Per Focus Tawian, the following was discovered about the fishing vessel, Feng Chun No. 66:
Citing data from Taiwan's National Rescue Command Center and the Fisheries Agency's e-monitoring system for fishing boats, Lee said the speed of the Feng Chun No. 66 and its positions at the time of the Oct. 24 encounter can prove that it did not ram the sailboat of the two Americans.
Lee added, "We not certain why they made such ungrounded accusations."