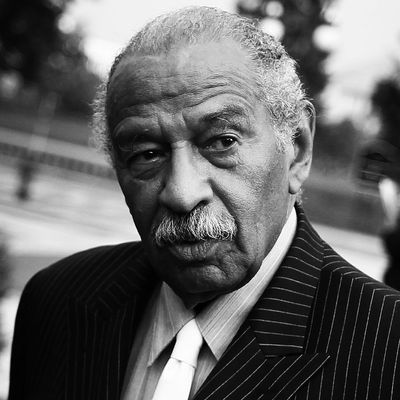 BuzzFeed News reports Representative John Conyers's office paid $27,000 to settle a sexual-harassment claim, which Conyers denies.
Photo: Mark Wilson/Getty Images
On Monday, BuzzFeed News published a report in which a former staffer of Democrat representative John Conyers alleged his office paid her more than $27,000 to settle a sexual-harassment complaint (that came with a confidentiality agreement, as well). Although Conyers has since denied the claim, the news follows a recent Washington Post report that Congress's Office of Compliance has paid over $17 million to settle 264 workplace complaints since 1997 — a figure that includes sexual-harassment allegations. But where does all this money come from? From U.S. taxpayers.
At the moment, if a member of Congress were to settle a sexual-harassment complaint, the funds they'd use to pay for that settlement wouldn't come out of their own pockets. Instead, as New York Times reporter Katie Rogers explained on The Daily podcast on Tuesday, the funds for these typically-confidential settlements come out of taxpayers' pockets. "If there is a settlement reached, it's still confidential," Rogers said on The Daily. "It's not reported that this lawmaker is settled against, and the U.S. treasury pays for the settlement, so tax payers essentially pay for a settlement against a lawmaker."
This rule isn't new, of course — the current process for handling harassment claims was included in the broader 1995 Congressional Accountability Act — but it isn't widely known. Right now, all workplace claims involving Congressional employees — whether sexual harassment or otherwise — are processed by the Office of Compliance, which oversees workplace policies on Capitol Hill. "Congress created the Office of Compliance to protect itself from being exposed," Representative Jackie Speier of California said in a recent press conference, per McClatchy. "And it has been very successful."
But this practice may soon be amended, if new bipartisan legislation introduced by Speier, New York senator Kirsten Gillibrand, and other members of Congress is passed. The ME TOO Congress Act, as NPR reports, would overhaul the current way sexual harassment is handled.
Among other things, the bill would get rid of 30-day requirements for counseling and mediation before complaints can be filed by Congressional staffers, and create an in-house counsel position for victims of harassment in Congress. It would also require sexual-harassment settlements to be publicly disclosed and force lawmakers to pay out of their own pockets for any settled claim in which they're identified as the harasser.