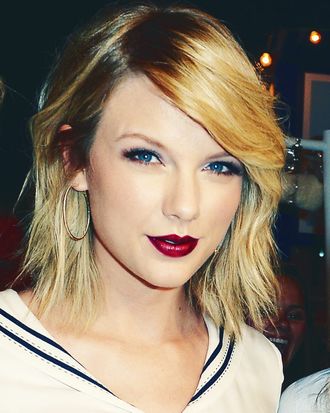 Taylor Swift.
Photo: Gustavo Caballero/Getty Images for Tommy Hilfiger
Taylor Swift's album rollout is not going as planned. On Monday, the ACLU of Northern California sent a letter to Swift's attorney stating that her camp had tried to silence and intimidate a critic. The story is incredible and bizarre: Apparently, Swift's attorney threatened a writer at the little-known leftist culture blog PopFront over a blog post about the alt-right's embrace of Swift's music. How Swift's camp found the article in the first place, and why they decided to use threatening legal tactics to suppress it, remains unclear. The writer, however, is facing Swift head-on: PopFront's Megan Herning said in a statement Monday, "The press should not be bullied by high-paid lawyers or frightened into submission by legal jargon. These scare tactics may have worked for Taylor in the past, but I am not backing down."
According to a press release from the ACLU, Swift's attorney William J. Briggs, II, sent Herning a letter last month instructing her to retract her article titled, "Swiftly to the alt-right: Taylor subtly gets the lower case kkk in formation." Briggs wrote that the post was "provably false and defamatory" and that Herning should remove it from all sources, including social media. He added that Herning could not publicize his letter because of copyright law, and that if Herning did not comply with his requests, "Ms. Swift is prepared to proceed with litigation."
The ACLU says Swift has no case: Herning's post simply states her opinions, and it is not defamatory. ACLU attorney Michael Risher said in a statement, "This is a completely unsupported attempt to suppress constitutionally protected speech." Another ACLU attorney, Matt Cagle, added, "Intimidation tactics like these are unacceptable. Not in her wildest dreams can Ms. Swift use copyright law to suppress this exposure of a threat to constitutionally protected speech." In a letter to Swift's attorney, the ACLU had more fun with Swift's lyrics: "Criticism is never pleasant, but a celebrity has to shake it off, even if the critique may damage her reputation."
Swift's new album, Reputation, is set to be released on Friday. This is probably not how she wanted to start a big press week. We have reached out to her for comment and will update if we hear back.